6 terror suspects arrested at the Kenya-Somalia border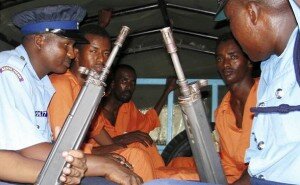 Garissa; Kenya Six suspected terrorists were Tuesday arrested and three hand grenades and two pistols with 84 bullets recovered from them in Amuma area at the Kenya-Somalia border.
The six, who included two women, were riding on a Toyota Land cruiser when police from Lagdera Police Station stopped them for normal checks.
"Four others managed to escape after jumping off the moving vehicle in the Tuesday 1pm drama", police said.
They were reportedly headed for Hagadera refugee camp when the recovery was made. North Eastern police boss Philip Tuimur said the suspects were escorted to Dadaab Refugee Camp for further interrogation.
Other officers said there were reports the weapons and grenades were to be used in Garissa town for an attack.
Garissa has been a centre of attack by suspected terrorists who ambush and kill security agents in the past months with up to ten dying in similar incidents.
The attackers usually use pistols to stage the attacks. The latest one happened on Monday night in which a soldier and a civilian were killed. A third victim is fighting for his life in hospital.
The recovery was made a day after a man was arrested and six G3 rifles with16 bullets recovered from him in Elwak, Mandera at the Kenya-Somalia border.
Source:- Standard Newspaper 
Comments
comments