Gaddafi buried with his son Mutassim in unmarked desert grave at dawn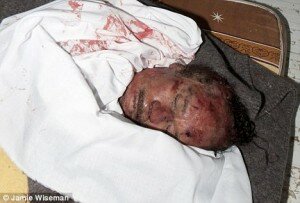 Muammar Gaddafi, his son Mutassim and a former aide were buried in the desert at dawn in unmarked graves, it has been reported.
A source in the National Transitional Council, Libya's interim government, told the Al Jazeera TV network that members of Gaddafi's tribe were present to say prayers to mark the burial.
Their corpses were last night moved from the commercial freezer in a Misrata warehouse that had served as a makeshift morgue in anticipation of the burial, a guard said.
Local military spokesman Ibrahim Beitalmal earlier said the burial was likely to take place today.
The three men were to be buried in unmarked graves in a secret desert location to avoid vandalism or the place becoming a shrine.
Asked about the removal of the bodies from the freezer, he said he was unaware of the process of burial getting under way.
However Salem al-Mohandes, a security guard at the warehouse complex, said the bodies were taken away late on Monday evening, where they had been on display for the past four days.
Mr al-Mohandes said: 'Our job is finished. He [Gaddafi] was transferred and the military council of Misrata took him away to an unknown location. I don't know whether they buried him or not.'
Associated Press reported seeing three vehicles leave the warehouse area late on Monday. On entering the freezer, it was then found to be empty.
Rebels had put Gaddafi's body on show in a cold store while they argued over what to do with it after the fallen dictator was battered and shot dead last Thursday.
An official told Reuters: 'He will be buried in a simple burial with sheikhs attending the burial.
'It will be an unknown location in the open desert. The corpse cannot last any longer.'
The killing of Gaddafi, 69, in his hometown of Sirte brought to a close eight months of war and ending a nervous two-month hiatus since the rebel forces of the NTC overran the capital Tripoli.
NTC officials had tried to negotiate with Gaddafi's tribal kinsmen from Sirte over where and how to dispose of the bodies.
'No agreement was reached for his tribe to take him,' an official said.
The NTC appeared to have decided that an anonymous grave would at least ensure the plot did not become a shrine.
The death of Gaddafi triggered mass rejoicing in Benghazi, the seat of the revolt.
However it also highlighted a lack of central control over disparate armed groups, and the jockeying for power among local commanders as negotiations began in earnest to form an interim government.
One senior NTC official in Tripoli said: 'Leaders from different regions, cities, want to negotiate over everything — posts in government, budgets for cities, dissolving militias.
'Is that not democracy? It would be unusual if they did not after Muammar favored only a few places for 40 years. There is no reason why it cannot be peaceful.'
___
Daily Mail
Comments
comments