Jurors watch Al-Shabab recruiting videos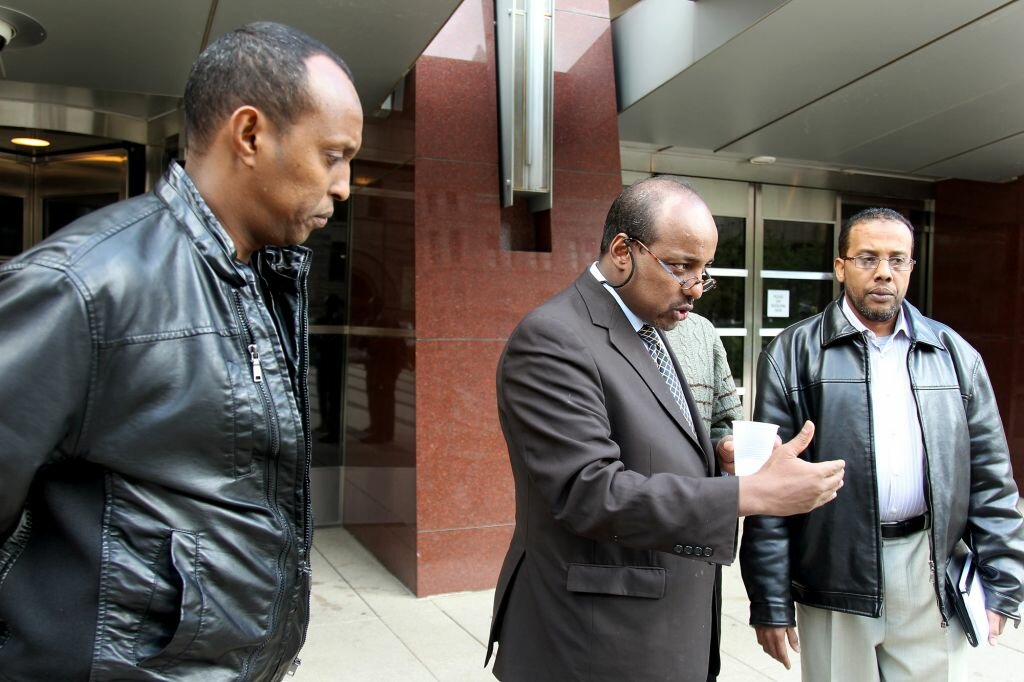 His face masked by a checkered scarf, the figure in the video seen in a federal courtroom Wednesday ran through the woods, crawled on his belly under barbed wire, trained in martial arts and fired an assault rifle. He faced the camera and issued a call to arms to young Muslims living in the West.
"That's me," said Kamal Said Hassan, a star prosecution witness in the trial of a Minneapolis man accused of helping send more than 20 Minnesota men to fight with terrorists in their native Somalia. "Basically I'm saying to the people abroad, 'Come join us and come fight. Come join us and defend the religion of Allah.'"
Prosecutors played two terrorist propaganda videos with the Minnesota men in them, including Hassan. Hassan led the jurors through a video showing a training camp and a video of a real ambush of Ethiopian soldiers. He said he and other Minnesotans were involved in the ambush.
Mahamud Said Omar is on trial facing five charges related to helping a terrorist organization and conspiring to kill and maim people overseas. He is accused of encouraging and giving money to some of the men who left Minnesota in 2007 and 2008 to fight in Somalia for Al-Shabab, a U.S.-designated terrorist group.
Much of the testimony in the case has been about other men, including Hassan and two other government witnesses who joined Al-Shabab. Hassan, 27, pleaded guilty to making false statements to a federal officer and faces up to nine years in prison. He hopes for a shorter sentence as a result of his cooperation.
Mahamud Omar, a 46-year-old part-time janitor, claims he went to Somalia to get married and doesn't support Al-Shabab. His family defended him Wednesday.
"We believe Omar is pretty much caught in the middle of this mess," said family spokesman Omar Jamal, first secretary of the Somali mission to the United Nations. He said the family is anxious but trusts the jury and the judicial system.
Hassan testified that he was chosen to speak in the video because Al-Shabab leaders wanted the invitation to come from the Minnesota recruits, and Hassan spoke with the best American accent.
__
Star Tribune
Comments
comments