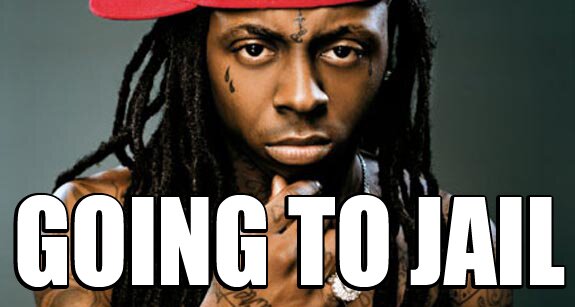 *Update–
Lil Wayne appeared in a New York court, but lawyer Stacey Richman said the rapper is suffering from a cracked tooth, requiring dental surgery, and asked to postpone his sentencing.
The prosecution agreed that the rapper would receive better care with his own dentist than at Rikers Island. And so the judge rescheduled for March 2.
Lil Wayne is supposed to have dental surgery on Friday in Miami and will need at least a week to recover, the lawyer said.  The judge then warned Wayne that he must go to Miami today, to avoid being delayed by the impending East Coast snowstorm. "I don't want this to get pushed back anymore," judge Charles H. Solomon said. "This is the last adjournment."
—-
Lil Wayne, easily the hardest-working MC in hip-hop, will have his career come to a screeching halt when a Manhattan judge formally sentences the rapper to a one-year prison term Tuesday (February 9).
The move is the final process in the case, which dates back to July 2007, when Lil Wayne was arrested for gun possession in New York following his first headlining concert in the Big Apple. In October, the Cash Money superstar struck a deal with prosecutors that saw him plead guilty to a reduced charge of attempted gun possession. He's now expected to serve up to 10 months in prison with the possibility of an early release after eight months for good behavior. The rapper was originally facing as much as 15 years behind bars; New York is among the toughest states in the country when it comes to gun laws for individuals not affiliated with law enforcement.
Lil Wayne will appear before Judge Charles H. Solomon on Tuesday afternoon, where he will formally enter his plea and likely turn himself in to immediately begin his sentence.
The firearm in question was registered to Wayne's manager, Cortez Bryant (and not found on Wayne by police), and the rapper's attorney attempted to have the case dropped through DNA challenges. Wayne's defense also sought to have the case dismissed after authorities handling the case misprinted information on the arrest report.
The rapper eventually decided to reach a plea deal with the Manhattan District Attorney's Office. In New York, stringent gun laws were enacted during former Governor George Pataki's administration. In a different state, the rapper could have been levied a fine and probation for the same offense.
Wayne pleaded guilty in the case because attempted possession carries almost the same threat of punishment as full possession. "Possession is defined as actual possession or dominion or control. … We said it was dominion and control," Joan Illuzzi-Orbon explained to MTV News after the deal was announced.
The distinction is that the weapon was potentially something available for immediate use. In other words, the threat of controlling the weapon is just as much of a crime as actually controlling one in New York. "Basically, the old law [prior to Pataki's tenure] required someone to have a loaded weapon and intend to use it [before] the mandatory minimum would kick in," said Scott Leemon, a defense attorney in New York who has represented G-Unit's Tony Yayo in the past. "And basically, what they did is they took that out of the law. So the mere possession of a loaded weapon in New York State is a felony."
Lil Wayne has been busy in the weeks leading up to his sentencing. In December, he performed his final hometown show before his jail time. The rapper has also furiously been at work on the forthcoming Tha Carter IV, which will likely see a release by the end of 2010. He also is still facing charges in Arizona, and his trial is set to begin March 30.
Despite the challenges the rapper is facing, experts expect Lil Wayne to quietly serve his jail time and continue leading one of the biggest careers in music afterward. "Wayne is from the streets, from the Magnolia Houses in New Orleans, so I'm sure those guys have been in jail or locked up at some point," retired NYPD Detective Derrick Parker told MTV News. "So being in prison is no big deal to them."
____
MTV
Comments
comments