Murder conviction in Edmonton Somali slaying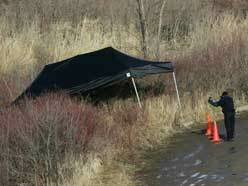 One of two men accused of first-degree murder in the shooting of a Somali man at a city park has been found guilty.
Abdikadir (Abdi) Abdow, 24, was convicted in Court of Queens Bench Friday morning of first-degree murder.
Co-accused Mohamed Abdilla Awaleh, 38, was cleared of the murder charge but convicted of kidnapping.
Court heard victim Mohamed (Malik) Farah Khalif, 20, was forcibly confined at a north-side apartment on the night of April 25, 2009.
Abdow — armed with a rifle — later put the victim in a car and drove to Hermitage Park, court heard. Once at the northeast Edmonton park, Abdow shot Khalif dead.
Abdow will receive an automatic life sentence, however a hearing is to be held next Friday to determine how long he must serve before being eligible for parole.
__
Edmonton Sun
Comments
comments