Police find body of Salman Abdirahman Arte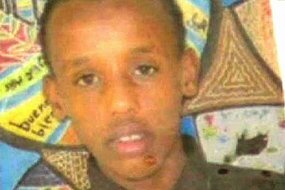 UPDATE: SEARCHERS have found the body of a 13-year-old boy who disappeared in floodwaters at Bulimba Creek at Wishart in Brisbane's south yesterday.
The young Somali immigrant was last seen clinging to a broken tree branch in the creek but when his brothers returned with help he had disappeared.
Police have confirmed his body was found about 2.30pm (AEST) on Wednesday, not far from where he fell into the creek.
His father had been keeping a vigil by the creek bank for his teenage son.
Family friend and president of the United Somali Association of Queensland, Hussein Ahmed, told AAP that Salman, who was born in a refugee camp in Somalia, never had the opportunity to learn to swim.
"The branch broke off and he was holding onto it with one hand, then he sank and the water took him," Mr Ahmed said.
"That's the last time they saw him.
His family of 12 moved to Australia about 12 months ago.
Salman had been looking forward to celebrating his 14th birthday on Friday.
Bartamaha News Desk.
Source: Australian press
Comments
comments