Press Release- AU Special Representative Shocked and Saddened by the Continuing Trend of Journalist Assassinations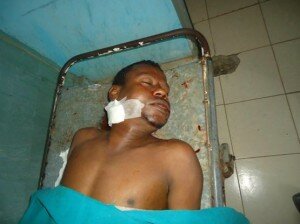 Mogadishu-January 18, 2013: The Special Representative of the Chairperson of the African Union Commission (SRCC) for Somalia, Ambassador Mahamat Saleh Annadif is shocked and saddened by the continuing trend of assassinations and harassment of journalists in Somalia. Ambassador Annadif has condemned the killing of Shabelle Media Network journalist, Mr. Abdihared Osman Adan who was shot as he was leaving his house on his way to his work place.
"It is sad to note that this barbaric behavior continues to exist despite the relative peace and security that Mogadishu is currently enjoying. It is very critical that stakeholders as a matter of priority and urgency put their heads together and bring to an end this trend once and for all." He said.
The AU Special Representative said as the country is making tremendous progress on both the political and security fronts, members of the media should be given assurance that their work environment is safe to operate in to ensure the Somali people are well informed of the developments around them.
Ambassador Annadif paid tribute to Mr. Abdihared Osman Adan who was shot several times in the upper and lower parts of his body before being rushed to Madina hospital where he died of his wounds. He extended his condolences to his family, Shabelle Media Network, National Union of Somali journalists (NUSOJ) and the entire Somalia media fraternity for the loss of this outstanding and very active journalist
Comments
comments