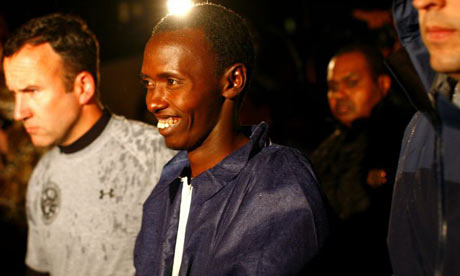 Omar Jamal gave a good interview on Rick Sanchez.
Also The guardian wrote:
Muse's father, Abdiqadir Muse, told Associated Press his son had been tricked by older pirates into going along with them. "He just went with them without knowing what he was getting into," he said.
A Somali teenager of disputed age is expected to be charged today with the first piracy counts in the US in more than a century.
Abdiwali Abdiqadir Muse will be brought before a New York judge following his capture off the coast of Somalia during the drama over the hostage-taking of an American captain. He was taken on board the US naval vessel, the USS Bainbridge, shortly before his three fellow pirates were killed by US Seal snipers as they held the captain, Richard Phillips, hostage.
The four men had stormed Phillips' ship, the Maersk Alabama, as part of a mushrooming of piracy off the Somali coast that is disrupting international trade and costing millions of dollars in ransom money.
US authorities decided to bring Muse to New York because he was taken in international waters, allowing him to be prosecuted in any country, and because the FBI in New York has acquired a specialism in dealing with east African legal affairs following the al-Qaida embassy bombings in Kenya and Tanzania in 1998.
The billowing problem of Somali piracy was underlined today by new figures from the International Maritime Bureau that showed that incidents of piracy around the world had almost doubled in the first quarter of this year. The surge was overwhelmingly caused by Somalia's anarchic political situation spilling out into the sea.
Between January and March, there were 102 attacks worldwide, the London-based group said, compared with 53 in the same period in 2008. Two thirds of this year's attacks – 61 in total – fell within the Gulf of Aden and the east coast of Somalia where Somali pirates operate, compared with just six in the first quarter of last year.
Muse now provides the public face of the seemingly intractable problem of how to protect a stretch of international waters from pirates emanating from a country that is itself mired in lawlessness. He arrived in New York last night, handcuffed and chained and with a bandage on his left hand over a wound incurred during the initial tussle on board the Maersk Alabama.
His prosecution raises difficult legal issues. Most knotty is the question of his age, which is hard to determine given the state of anarchy in Somalia. His parents say that he is 16 years old, that would categorise him as a child under federal law which in turn would set strict limits to the nature of his trial and the length of any eventual sentence.
During today's hearing, US magistrate judge Andrew Peck decided Muse was not under 18.
Omar Jamal, director of the Somali Justice Advocacy Centre in Minnesota, which is working with Muse to help him with legal advice, said he was certain the defendant was a min
Comments
comments