Somalia and Turkey sign defence agreement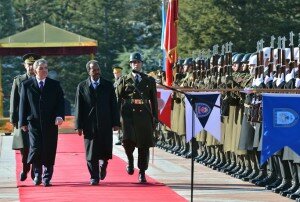 Turkey has pledged to train and offer logistical support to Somalia's armed forces, officials said.
The pledge followed the signing of an agreement between the two states' defence forces in Ankara, Turkey.
The deal, signed by the Defence ministers, followed a meeting between Somali President Hassan Sheikh Mohamoud and his Turkish counterpart Abdallah Gul.
Turkey also pledged to advocate the setting up of an international fund to be used to establish the security forces in Somalia.
President Gul said: "Turkey wants to show the entire international community how to help another nation with humanitarian purposes and without any expectations. We are fulfilling this in the best way."
Turkey offered a massive humanitarian assistance when a famine struck Somalia and the rest of the Horn of Africa in 2011.
Since then, Turkish organisations have been implementing projects in Somalia, especially in the capital Mogadishu.
President Mohamoud is leading a government delegation on the official visit to Turkey and is expected to meet with Turkish Prime Minister Recep Tayyip Erdogan in Istanbul.
Comments
comments