The 3rd anniversary of the deadly attack at Shamo-hotel in Mogadishu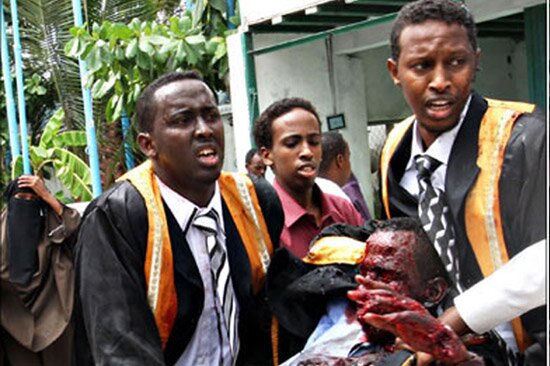 Mogadishu:-Today is 3rd December, 2012 three years after the deadliest suicide bomb attack that occurred at SHAMO HOTEL in Mogadishu, the capital of Somalia which killed over 30 people and injured 30 others.
It was shocking and tragic event that shook the whole building of the hotel where highly well beautified graduation ceremony was taking place and the delightful and cheerful appearances of concerned out-going graduators and participants changed into miserable mood after heavy explosion occurred at the site that changed previous image of the scene and turned into a place where streaming blood, clots, dead and injuries covered.
The dead ones were the most important people of the society such doctors, students, journalists and T.F.G ministers for health, education, higher education and sports.
The reaction of the Somali people to this catastrophe was that they have been very worried about deadliest suicide attack against social gathering and innocent civilians and politicians who were only thinking of the future of Somali in the war torn city and whole the country.
The government ministers who lost their lives in the disaster were: Prof.Ibrahim Hassan Addow, minister of higher education and culture, Drs. Qamar Adam Ali, minister of health, Ahmed Abdullahi Wayel, minister of education, Saleban Olad Roble, minister of Sports.
Journalists of Al-Arabia television, Hassan Subeyr Haji and Mohamed Amin of Radio Shabelle were among the dead and Dr. Shahid, lecturer of Benadir University and other honorable guests invited at graduation ceremony.
No one will remain being life for ever and every one will once leave from this fake world into the grave and hereafter, as we were told in our holy Kuran, but people don't like their lovers to be dead or victim.
What seem to you to be shameful seem to others to be boastful or his/her deeds.
"Waxa aad ceebta u taqaan qof bay camilkiisu tahay"
The Al-qaeda linked group of Al-shabab claimed the responsibility of that suicide attack which killed very important people in the community indicating that the students were learning worms and parasites.
T.F.G heads condemned the attack as president Sh. Sharif Sh. Ahmed and his Prime Minister Omar A/Rashid and their government promised that it will make investigation concerning about that deadly attack, but no documentary has been issued and found from government intelligences since that time.
Dr.Osman Mohamud Dufle who was believed to be among the dead when the blast occurred as the initial news from the scene were saying, survived and luckily saved as though he was giving speech at the graduation ceremony when the suicide bomb was taking place.
Dufle told that 3rd December was a day which is worth to be remembered and added it was behind by a brain that wanted to deprive education and educators of Somalia.
Prof. Mohamed Omar Dhalha who was deputy parliament chairperson and was in Kenya, Nairobi while the blast took place and spoke to press at that year saying that 3rd December, 2009 was day we lost valuable colleagues and expected that like that one might not return to Somalia.
T.F.G Minister of National Security, Col. Omar Hashi Adam, Abdikarim Farah, Somali ambassador to Ethiopian and over 70 people including military officials, traditional elders and civilians were killed in a suicide attack on 18th June 2009 in Beledweyne city in Hiiraan region.
The third shocking suicide attack occurred at Hargaha and Samaha in the capital on 4th October 2011 last year that innocent civilians lost their lives mostly students who got scholarship from Turkey.
Those are not only heartbreaking suicide attacks, but many others took place in the capital Mogadishu as though Sept. 20 this year becomes such above ones that occurred at the Village.
My All the Dead Rest Their Souls in the Paradise
Aamiin!!
By: Mohamed Osman Abdi "Black Cobra"
E-mail: Cobrasonna@gmail.com
Comments
comments