In Seattle, Somalis denounce terrorism, piracy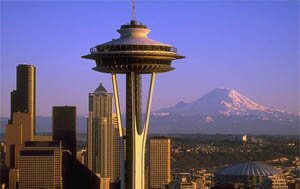 By MANUEL VALDES ASSOCIATED PRESS WRITER — SEATTLE — With headlines about pirates hijacking ships and terrorist groups recruiting their countrymen to fight in Africa, Somali community leaders in the Seattle area are speaking out in an effort to counter negative public perception.
"The media has portrayed a lot of negatives," said Mohamed Mohamud, one of the organizers of an outreach event last Saturday in the Seattle suburb of Tukwila that attracted dozens of Somalis. "When the community sees a lot of negatives – the actions of the youth, the piracy – we want to give the community a way so they don't feel demoralized, stay positive, engage through civil engagement. A lot of them think there's nothing they can do."
In a statement, Mohamud and others said they "want to show that we are American citizens who abide by the law and contribute to this country in different ways.
"We, the Somali-Americans in Washington State, are denouncing our youth to participate in any kind of violence here and back home. We see this as an opportunity to clarify our perspective, as a community and United States citizens, and we (are denouncing) the piracy act in Somali shores."
In addition to condemning piracy and terrorism, the organizers also criticized law enforcement authorities for what they claim is harassment, after reports that FBI and other agencies have questioned Somalis here.
Seattle has been a main destination for Somali immigrants and refugees arriving in the U.S. in the past decade. An estimated 4,000 to 7,000 Somalis live in Washington state, according to state and King County figures.
Most of the attention, however, has focused on the Minneapolis-St. Paul area of Minnesota, where federal authorities say a handful of Somali men were recruited to fight in Somalia. Last October, a young Somali man who had lived in Minneapolis was believed to be a suicide bomber in five coordinated attacks that killed more than 20 people in Somalia.
In February, FBI Director Robert Mueller said that the bomber had probably been "radicalized" in the Twin Cities. Weeks later, Osama bin Laden said in an audiotape that al-Qaida has set its sights on Somalia, and urged Somalis to overthrow their new moderate Islamist president.
David Gomez, assistant special agent in charge for the FBI in Seattle, said the bureau – working with local police agencies – is doing outreach to the Somali community. Part of the challenge, Gomez said, is to reach people who are scared of law enforcement because of their experience back home. He said, though, that agents have good relationships with Somali leaders.
"We haven't found any evidence that there's an active recruitment effort for young Somalis to fight in the military or jihadist groups (here)," Gomez said Friday.
The influx of Somali refugees to the U.S. started after the country's government collapsed in 1991. Somalia remains an impoverished and largely lawless country in the Horn of Africa with no central government.
According to the U.S. Census Bureau, Somalis are likely to be the youngest, newest and poorest of this country's foreign born population.
Comments
comments