Sweet sounds of Somaliberg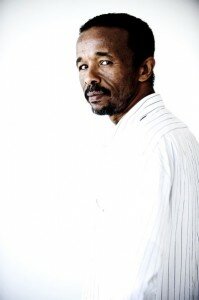 Omar left his homeland in 1990, travelling first to Sudan and then later to Malaysia. After two years in an Australian detention centre, he settled in West Heidelberg. In a backroom of Tanaad grocery, he tells me he was fortunate: he lived a traditional nomadic life until he was eight, settling in a town when he was old enough to attend school. He left Somalia before civil war broke out, although his mother, a poet, recorded songs of her daily life — the warlords, the militia, the violence — on cassette tapes, ensuring he learnt of what was happening in his homeland through regular dispatches. He responded with his own poems, finding his voice as he did.
Soon after settling in Melbourne he began work with Multicultural Arts Victoria, whose Emerge Program encourages newly arrived refugees to participate in a range of artistic projects. While many of its participants were skilled performers in their homelands, others are young artists, with workshops designed to teach, nurture and facilitate their talents. Its goals are many: to create bridges within and between refugee communities, to provide refugees with an avenue for expression, and to build confidence and leadership skills.
In 2006, Omar hosted a series of poetry workshops for Somali teenagers in the northern suburbs, culminating in a night of recitals at Preston Town Hall. The following year he took part in the organisation's annual Emerge Festival.
His community work led him to his thesis topic — Omar has spent the past four years interviewing Somali teenagers in both Melbourne and Minneapolis about their experience of integration; what it's like to find their feet in a new country, which parts of Somali culture they've chosen to bring with them, which they've left behind.
Through his research, Omar confronts his community's problems — low literacy levels, culture shock, fractured family dynamics, the trauma of years (sometimes decades) spent living in refugee camps — as if they were his own. Namely, of course, because they once were.
Another of Omar's concerns is the preservation of Somali culture. Not in the static, behind-glass museum sense, but rather in the living hearts and minds of Somali youth. The advantage of being young is that refugee children adapt to new surrounds quickly. The danger is that in their desperation to fit in, they abandon their heritage entirely. "Young people learn English very fast. Their parents learn from them, but they don't learn enough to communicate properly. The children understand Somali, but they don't speak it, so conversation is very basic." Without a shared language, he says, family conversations rarely extend to stories of Somalia, or what their parents endured to bring them here. "Young people don't think their parents' culture is relevant to them. It belongs to another time and place. Their focus is on fitting in where they are."
Back in Somalia, culture faces a different kind of attack. After the country's descent into civil war, Islamic extremists imposed bans on singing, music, painting and poetry. Sharia law prevents even moderate Muslims from dancing or playing music at weddings. In April this year, the country's al Qaeda-inspired insurgent group, Al-Shabaab, raided Mogadishu's radio stations, banning broadcasts and destroying equipment. The city's 14 stations have since been silent, so too mobile phones — musical ring tones are outlawed.
Similar sentiments extend to Melbourne's Somali community, where many view musicians and singers with open disdain. Omar says he frequently urges local religious leaders to embrace music publicly, to speak about its cultural significance. Until they do so, he says, nothing will change.
Still, there is hope. He points to Somali-born hip-hop artist K'naan — who last week performed at the FIFA World Cup opening ceremony — as a glimmer of light from the country's wide diaspora. Melbourne offers its own opportunities. Performing as part of the Emerge Festival at Fitzroy Town Hall tomorrow will be Somali singer and musician Abdi Mohamed Abdi.
Born in the southern port city of Kismayoo, Abdi was 10 when he started playing instruments: accordion, flute, guitar, piano. His first band was called Dur Dur (archival footage of the band performing in the 1970s is posted on YouTube). He also composed, arranged and performed in numerous other bands before fleeing to Kenya after civil war broke out. Abdi and his family then spent 17 years living in Kenya's Kakuma refugee camp before reaching Australia last year.
Abdi made contact with Multicultural Arts Victoria with the help and encouragement of his refugee case worker, Niall McKinnon. The two met after Abdi was referred to McKinnon last September. As with many newly arrived refugees, the family found the machinations of life in the first world — housing, education, health — hard to negotiate. In between accompanying Abdi and his children to appointments, the two talked about Abdi's life in Somalia, his love of music, his sadness of not having played for many years.
McKinnon, who knew of Multicultural Arts Victoria's Visible Program and the Emerge Cultural Network, contacted project officer Anita Larkin. Abdi signed up for workshops, and has since learnt how to set up a MySpace site, met other recording artists and recorded tracks in a studio with producer Ivan Khatchoyan. He hopes to send the recordings back to Kenya for his band to record over and complete as an album.
He tells me his story in the loungeroom of his Reservoir home. Then he performs songs he's written about his experience of civil war and his wish for peace in his homeland. He dedicates the songs to his wife, who hovers by the doorway while a toddler dances on the rug by his father's feet.
As for Omar, he won't be making it to this year's Emerge Festival. He's flying to Italy to attend a conference on conflict resolution and present a research paper. He still writes poetry, and his mother, who now lives in Minneapolis, still sends him cassettes of her poetry. Her most recent tape features a song about the strangeness of seeing white people every day and this peculiar kind of rock water American people like in their drinks: ice. Omar hopes one day to transcribe her poetry into a family memoir, a time capsule of what Somali life was like before the war. "The poems are about nature, the pride of the people, day-to-day life. She never learnt to read and write, but she would sing these songs when I was a child. They are the stories of my culture."
Emerge Festival runs from June 20 to August 3, opening tomorrow with the Freedom From Fear concert at Fitzroy Town Hall from noon. For details of other events, visit multiculturalarts.com.au
Comments
comments