Victorian police chief Simon Overland admits racists in ranks
VICTORIA Police Chief Commissioner Simon Overland is embroiled in another race row after admitting that there are bigots on his force.
Mr Overland, whose public standing took a hit from his clumsy handling of the furore surrounding attacks on Indians living in Melbourne, yesterday conceded there were racists in his ranks.
He got no argument from three young Africans living in Melbourne's west, who detailed their rough treatment at the hands of local cops.
Emmanuel Makoi, 18, vividly recalled being kicked and punched by police after being called a "black c. . .". He was then driven to an abandoned spot by the Maribyrnong River, the brown ribbon that separates Melbourne's east from west, and assaulted again.
"They see the colour first, mate," agreed 21-year-old Koyock Gumwel. "As soon as they see Africans walking in the street, they come with their lights on, ask for your name and start searching you for no reason."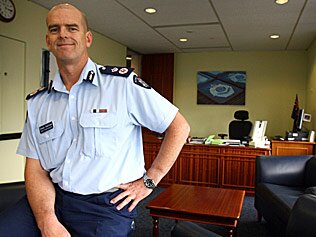 As for Mr Overland's pledge yesterday to stamp out racism within the force? "The damage has been done," said a 17-year-old who gave his name as Hass. "It's happened to us now."
The damning allegations were made to The Australian as Mr Overland responded to a report claiming routine over-policing, physical assault and verbal abuse by police against African youths in three Melbourne municipalities.
The full report is expected to be publicly released today and is yet to be seen by Mr Overland, who endured a difficult first year as Victoria's top cop.
While many of the attacks on Indians living in Melbourne have been shown not to be motivated by race – such as this month's death of toddler Gurshan Singh – the Chief Commissioner raised the ire of business groups and the Indian community when he advised Indians to "look poor" to avoid being assaulted.
He also faces growing public concern over a proliferation of knife attacks in Melbourne – the latest example of a growing trend for violent crime in the state.
Law and order issues are expected to dominate the campaign when Victorians head to the polls in November.
The report into police dealings with the African community, compiled by researchers on behalf of Victoria's Legal Services Board, is based on a series of anonymous interviews with 30 young Africans, eight community workers and two police in Greater Dandenong, Flemington and Braybrook – three areas with high numbers of African-born residents.
Mr Overland said the "vast majority" of Victoria's police were not racist. However, he conceded a "small number" might be motivated by bigotry in carrying out their duties. He vowed to take action against any allegations supported by evidence.
"I have to acknowledge that, like the broader community, we all undoubtedly have some people who have racist attitudes," Mr Overland said.
"That is not OK. It is particularly not OK if they act on those racist attitudes in a work context and where I find evidence of that, those people can expect to be dealt with very decisively."
The report authors say the breadth of allegations points to a more systematic problem. It finds young Africans living in Melbourne are routinely asked to "move on" from a public space and harassed by being stopped and asked to show identification. They are subjected to a "guest mentality" where they are treated as outsiders in their own community and, in the most serious instances, are beaten up and racially abused by police.
"Almost all the young people we interviewed have had a negative experience of policing, ranging from harassment and openly racist comments to serious assaults requiring hospitalisation," the report finds.
"Rather than the police providing protection for their community, African young people feel they need some form of protection from the police."
African community mistrust in police is aggravated by a lack of faith in the available avenues of complaints, which rely on police being asked to investigate their colleagues, and raise fears of retribution.
In one alleged example of police brutality in the report, "participant 3″ describes being assaulted in similar circumstances to Mr Makoi's.
"They kicked me on the ground," participant 3 said. "I thought I was gonna die or pass out, ya know? Just after that, I thought they were taking me to the police station. They put me in the divvy van, the drove me all the way to back of . . . then they all bashed me, they chucked my wallet out.
"Come out you black c. . ., get out of the divvy van. They hit me straight away, aiming at my leg here with the torch."
In another instance, a youth worker and young African both described a clash between police and Africans at a suburban park where police had gathered out of uniform and ended up assaulting a 14-year-old boy.
Springvale Monash Legal Service director Helen Yandell said the litany of claims heard by researches suggested a cultural problem within Victoria Police.
"We can't say it is a few isolated bad cops when we are talking about across three major regions of Melbourne and communities that are quite widespread," Ms Yandell said.
The report was commissioned and interviews done following the 2007 murder of Sudanese teenager Liep Gony and fierce public debate about the integration of Horn of Africa immigrants into Melbourne's suburbs.
Mr Overland said he could not respond to specific allegations until he had read the full report, obtained last night by The Australian. He also questioned why the Legal Services Board had chosen to release parts of the report publicly without giving police a right of reply.
"Until I can see the report, understand the findings in the report and the evidence that supports those findings and have an opportunity to talk to the authors, it is very difficult for me to talk to the particulars," Mr Overland said. "What I will say is if there are allegations there and evidence that supports those allegations we will take action. Racism in any form is not OK. Misuse of authority or power by Victoria Police is not OK."
_____
The Australian
Comments
comments