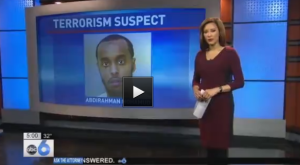 ABC6 – COLUMBUS (Lisa Ranta) — In court, prosecutors revealed new information against a suspected terrorist who's accused of laundering more than $1,000 to terrorists and providing them electronic devices.

Abdirahman Mohamud, 23, pleaded not guilty to two counts of terror Wednesday afternoon in a rare case filed by the state.

Franklin County prosecutor Ron O'Brien told ABC 6/FOX28 that federal investigators called him last week requesting that he file his first ever terror case on a state level. He says they had yet to obtain a federal arrest warrant, but wanted Mohamud off the street after their year and a half investigation.

During the investigation they'd subpoenaed his bank records and searched his home.

In the indictment, Mohamud is accused of traveling to the Middle East to support terror and providing them with materials and funds.

His attorney says the Somali born man came to central Ohio when he was eight and has been living with his mother and other relatives here. The judge set bond at $1,000,000.