LONDON: Crowd pickets Wormwood Scrubs demanding justice following death of inmate
GET WEST LONDON — More than two weeks on from the fatal stabbing of a young man in his Wormwood Scrubs prison cell a large crowd gathered outside the Shepherd's Bush institution to protest.
Khader Ahmed Sahel, 25, was of Somali origin and his sudden death on January 31 has shocked and angered a tight knit community who believe it could have been prevented.
On Thursday (February 15) Khader's mother, Amima Duleah, and his older brother, Said Yusuf, both from Northolt, Ealing, were among those to picket the prison's gates in Du Cane Road, demanding justice.
Following his death Khader's 20-year-old wife Salma has been left to bring up their two-year-old son, Ahmed, alone.
Speaking to getwestlondon Mr Yusuf, 29, described the last time he visited his brother in prison, he said: "His state was a bit bad, you could see the violence from his body – he'd been in fights inside
"He was mentioning that there was no safety inside and that there was neglect from the guards.
"He was scared inside the prison – for his life."
He added: "We want justice for him and we would like for this prison to either be closed or to be fixed so this doesn't happen to anyone else."
The protest was organised by Somali campaigning group Gaashaan, which has set up a petition asking the Ministry of Justice to combat the issue of violence in prisons and reassess the safety of inmates in institutions across the country.
Speaking to getwestlondon, Gaashaan leader Sahel Ali said: "We are coming together to protest against the brutal stabbing of an inmate of Somali ethnic background, Khader Sahel.
"Khader was 25 years old, he was at the beginning of his life, he left behind a family and a child."
Salma Hassan, has been widowed aged 20 after her husband was fatally stabbed in Wormwood Scrubs prison on January 31 (Image: Salma Hassan)
He added: "There is nothing wrong with locking up people who commit crimes or break the law of the land but what we are unhappy, angry about and against is that people's safety inside jails has been compromised.
"And this happened a month after a report was published highlighting a surge in prison violence – that is what people are angry about today."
A prison inspection in December revealed a high surge in violence on top of chronic staff shortages and lack of food at Wormwood Scrubs.
Following the report Chief Inspector of Prisons Peter Clarke said it painted "an extremely concerning picture."
Wormwood Scrubs inmates Ahmed Khayre, 21, Enton Marku, 20, and Khalif Dibbassey, 21, all appeared at the Old Bailey charged with Mr Saleh's murder on Tuesday (February 6).
The Recorder of London, Nicholas Hilliard QC, remanded all three defendants in custody.
Dutch national Mr Khayre, of HMP Belmarsh, British national Mr Marku, of HMP Wandsworth, and French national Mr Dibbassey, of HMP High Down, will return to court for a plea and trial preparation hearing on April 24.
Survivors of female genital mutilation say #MeToo

LONDON (Thomson Reuters Foundation) – The #MeToo campaign against sexual abuse should include the stories of survivors of female genital mutilation (FGM), activists said ahead of a global day on Tuesday to raise awareness about the internationally condemned ritual.
Leyla Hussein, one of the first FGM survivors to come forward in Britain, urged people to use the #MeToo hashtag when posting about the practice on social media on Feb 6, the annual International Day of Zero Tolerance for FGM.
"It's a shame the #MeToo campaign doesn't include FGM," said Hussein, founder of the London-based Dahlia Project, which provides counseling for women who have been cut.
"FGM is a form of sexual abuse, but yet again we've been left out," she told the Thomson Reuters Foundation.
At least 200 million women and girls globally have undergone FGM, U.N. data shows. The ritual, involving the partial or total removal of the external genitalia, is practised in about 30 African countries and parts of Asia and the Middle East.
Campaigners say the tradition – often justified for cultural or religious reasons – is underpinned by the desire to control female sexuality. It can cause serious health problems.
Hibo Wardere, a British activist who was cut as a child in Somalia, said both the #MeToo campaign and the global drive to end FGM were about "women having ownership of their bodies".
Countless women and girls have taken to social media in recent months using the #MeToo hashtag to talk about their experiences of sexual harassment, abuse and rape.
The campaign was sparked last year after a slew of sexual harassment and assault allegations against Hollywood mogul Harvey Weinstein. The scandal has since engulfed many other celebrity figures across various industries.
"FGM is a form of sexual violence – of course it should be part of #MeToo," Wardere said. "Being attacked because of our gender unites us.
"FGM is a way of controlling our sexuality, our bodies, our thoughts," she added. "It's a way to make you feel like nothing but a commodity that belongs to a man … That's what we're all fighting against."
Some campaigners said conflating FGM with the sexual abuse highlighted by the #MeToo campaign could wrongly imply there was sexual gratification involved with the ritual.
They said FGM should be seen as child abuse, not sex abuse.
But Hussein said sexual assault was not about gratification.
"It's about having power over someone," she said. "When someone does FGM, it's all about power."
Pictured with his wife on Snapchat: inmate stabbed to death inside Wormwood scrubs jail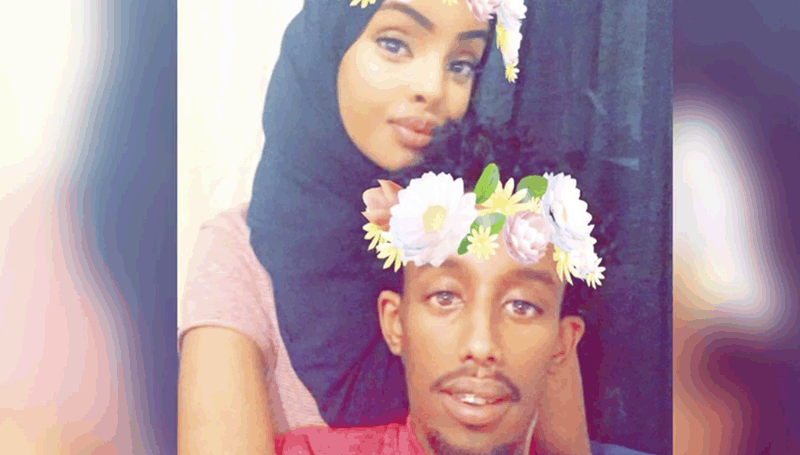 The family of a prisoner stabbed to death inside Wormwood Scrubs today said: "He should have been safe."
Khader Ahmed Saleh, 25, was found dead in another inmate's cell with multiple knife wounds yesterday afternoon. Four inmates have been arrested on suspicion of murder.
The father-of-one was being held ahead of his sentencing next month for drugs offences.
He moved to the UK 13 years ago from Somalia with his mother Amina Dualeh, three older brothers and sister, and lived in Tower Hamlets with his wife Salma Hassan, 20, and their two-year-old son.
Mrs Dualeh, 58, said: "I cannot believe his life has been taken while inside a prison. It is unacceptable. I have lost my son and he is never coming back. Who has the responsibility? I am so sad."
Mrs Hassan said: "It is appalling. He should have been safe in the prison. Officers should be held accountable."
His uncle, Duale Yusuf, a Somali community activist, said Mr Saleh had been targeted by a gang inside the prison.
He said: "This tragedy has touched our hearts and the family are broken. We are devastated. He was a very kind person. A nice, quiet person. This is heartbreaking for the family."
The family said they are planning to organise a protest outside the jail.
The incident comes a month after an inspection report revealed "high levels of serious violence" and chronic staff shortages at the Category B prison.
Extra security measures were introduced after 90 reported assaults on staff in the previous six months.
A Prison Service spokesman said today: "Our sincere condolences are with the family of Mr Saleh.
"Since the last inspection, HMP Wormwood Scrubs has taken decisive action to reduce violence, conducting a full review of safety and security at the prison.
"The prison has now introduced body-worn cameras, additional CCTV and patrol dogs, and will be recruiting 120 extra officers to further improve safety.
"We are working with the police on their investigation and it would be inappropriate to comment further at this stage."
A spokesman for the CPS said Mr Saleh was being held on remand while awaiting sentencing at the Old Bailey next month after pleading guilty to two counts of supplying class A drugs.
National figures published last week revealed a 25-year high in violence behind bars, with 28,165 incidents in the 12 months to September.
Three of the 295 deaths in prison custody in 2017 were murders.
In October 2016 HMP Pentonville inmate Jamal Mahmoud, 21, was stabbed to death and two others were injured in an attack at the north London.
Two men aged 21, a 20-year-old and a 23-year-old man, who are all prisoners at the jail, have been arrested on suspicion of murder.
Man who attacked London Muslims imprisoned for over 40 years
AP — LONDON — A man who drove into worshippers near a London mosque, killing one man and injuring a dozen others, was sentenced Friday to at least 43 years in prison for what a judge called a crime driven by "malevolent hatred."
Judge Bobbie Cheema-Grubb said Darren Osborne's mind had been "poisoned" by far-right ideas, and he had shown no signs of remorse.
"Your mindset became one of malevolent hatred," the judge told the prisoner in the dock at Woolwich Crown Court. "This was a terrorist attack. You intended to kill."
She sentenced 48-year-old Osborne on Friday to life with no chance of parole for 43 years.
A jury convicted Osborne on Thursday of murder and attempted murder for the June 2017 attack in London's Finsbury Park neighbourhood.
A 51-year-old man, Makram Ali, was killed and 12 people were injured when Osborne drove a rented van into people leaving evening prayers during Ramadan.
Prosecutors said Osborne was motivated by a hatred of Muslims and had been radicalized by online far-right and Islamophobic propaganda.
Ali's family watched from the public gallery as sentence was handed down.
The judge said the victim had "lived his life without enemies — until, unknowingly, he met you."
Ali left a wife and six children. His daughter Ruzina Akhtar said in statement read in court that "his life was taken in a cruel way by a very narrow-minded, heartless being."