At pains to leave South Africa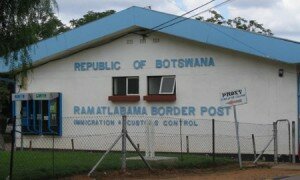 QUDSIYA KARRIM AND PERCY MABANDU (Mail & Guardian) —Somali refugees have told the Mail & Guardian that South Africa's high commissioner to Botswana, Dikgang Moopeloa, stood by and watched as the Botswana police and military beat them with batons and fists at the Ramatlabama border post on the night of March 24.
The 95 Somalis, who have full refugee status in South Africa, were trying to return to their war-torn home because they feared further attacks. The group included pregnant women and children.
Their attempt to cross into Botswana culminated in a 12-hour stand-off in no-man's-land. It is understood that officials from the United Nations, South African immigration services, National Intelligence Agency and the South African Police Service were also present.
The refugees say that when they refused to go back to South Africa, Botswana authorities beat them and pushed them into South African police vans.
"The [South African] high commissioner was there, watching. He told the soldiers not to hit the small kids because they will be the future leaders," one of the refugees said.
Home affairs provincial communications officer, Tsholo Jood, said a senior immigration official described how "Botswana police used sticks or batons to force the Somalis on to the South African police trucks." Jood also confirmed that Moopeloa was present, but said she did not know if he witnessed the beatings.
The M&G made repeated attempts to contact the high commissioner without success.
A witness, who asked not to be named, said that "even the South African police were surprised by the brutality of the Botswana authorities".
Botswana government spokesperson Jeff Ramsay denied the allegations, saying: "There's no truth that force was used." Ramsay confirmed, however, that the South African high commissioner was part of the team who helped "talk [the refugees] into going back".
Witnesses say it took more than talking to "persuade" the Somalis to leave no-man's-land. Jood said a home affairs official at the scene was so concerned about the beating of Halima Husain — who was heavily pregnant — that the official "forced" South African authorities to take her to Unit 9 clinic in Mmabatho.
Husain was given treatment for a head wound and was told by medical staff that she had a breech pregnancy and should avoid travelling.
A representative of the United Nations High Commission for Refugees (UNHCR), Sergio Calle-Norena, said he was unaware of any beatings."No one presented me with documentation that there was any physical abuse, but I also cannot exclude that [possibility]," he said.
The Botswana high commissioner to South Africa, Motlhagodi Molomo, denied any knowledge of the incident.The story was reported widely in Botswana, with the Botswana Press Agency describing it as a "potential diplomatic headache".
After their refugee permits were confiscated by South African border officials, the Somalis were detained at police stations around Mafikeng. "The officials told us: 'You're now illegal aliens. You're criminals'," one of the women said.
The UNHCR and the Legal Resources Centre (LRC), which represents the refugees, intervened on their behalf. In a letter to home affairs director general Mavuso Msimang on March 26, the LRC said there was "no lawful basis" for the refugees' detention and appealed for the return of their permits.
The refugees said they were released only after signing an undertaking that they would return to the Carroll Shaw Memorial Centre in Randfontein. Thirty-seven refused to sign, but 57 agreed and were released.
"There was a breach of immigration laws … they could have been prosecuted but they were not. They signed … and agreed to behave," said Calle-Norena.
The remaining refugees were taken back to Randfontein in the first week of April. Their permits have still not been returned.
Now the Somalis face a new crisis. To date the UNHCR has financed their food and shelter, but the arrangement ends this week. Calle-Norena said the UNHCR does not have the resources "to provide permanent accommodation for them", although his organisation will conduct a "protection needs analysis" to decide on future action.
Meanwhile, the Somalis remain determined to leave the country. The LRC's Brickhill describes this as a "sad indictment of South Africa", but adds that it's not surprising.
"There's a war in Somalia, but at least I know that my neighbours won't turn on me," one of the women refugees said. "We will be safer there."
Ayesha Abdilkadir(22)
is one of the Somali refugees
who tried to flee to Botswana
Terror hits home
It was the most terrifying night of my life, said Ayesha Abdilkadir. In 2007 we were watching TV at home in Verulam when we heard a knock on the door. Three masked men with knobkerries entered. They beat my father badly and put a gun to my mother's head.
I hid under the sofa, while my brothers and sisters cried and screamed. They made my mum give them all her wedding jewellery and cash, saying: "This belongs to us, because you took our business away. Next time we will take your life."
They left. We called the ambulance and the police. My dad was lucky to be alive but the authorities didn't take what happened seriously.
We'd lived in Verulam since 1997 without incident. We knew our Zulu neighbours were jealous of our business, but we never thought it could come to this.
My family got over the trauma and went back to selling in our three shops near the market.
In April last year I came home from boarding school for the Easter holidays. One night three men broke into our home again."Tonight we're going to have some fun," they told me and my sisters, pointing guns at us.
I was afraid they were going to rape us, but their intention was the same as before. "We're cleaning out your house and we want you to leave the country. This is your second warning. There won't be a third one," one of them said.
They beat my mum, tied me and my siblings up and took all of our stuff. Our home was completely bare, they even took the curtains.
We fled to Johannesburg. I left my friends and the beach in Durban and didn't finish my matric. They call us Makwerekwere, but my family has citizenship. Dad has the papers which say we can collect our green IDs, but what the hell is the point when no one here wants us?
When we came in 1997 we had nothing but hope in our hearts. My family worked hard, we built our businesses from scratch.Now, hope is dead. There's nothing left.
Amina Abdl(55)
is one of the Somali refugees
who tried to flee to Botswana
I left Somalia with my husband on 16 June 1995.We've been in South Africa for 14 years, but we are still suffering.We first worked in Germiston in 2000, selling chips and sweets on the pavements until all the foreigners' shops were looted.Then we came to Johannesburg in 2000, and worked as vendors on Rocky Street. But the police made it very difficult for us to sell in the streets. The locals told us everyday: "You people came and took our jobs… Get out! We want you out!"
Life was hard.We decided to move to Soshanguve in Pretoria and set up a tuck shop near Laudium. Business was okay but last year in March, thugs attacked me.They broke my hand, hit me on the head and nearly killed me.I was afraid for my life.I complained to the United Nations, and they convinced my husband and me to move to the Akasia Camp in May 2008.
The UN said they will help us and give us food and money, but it wasn't enough.For 10 months I stayed in Akasia with 10Â 000 other foreigners. We had only one pipe to get water and had to use the bush to go to the toilet.After the police destroyed the camps in March, I came to the Carrol Shaw Memorial Centre in Randfontein.
I feel a little safe here, but it is overcrowded.Four to five women share a room.I have no blanket or mattress. There is nowhere else to go and nothing to do, except pray and sit in the sun all day, thinking of my struggle.
The government is moving us from place to place and dumping us like rubbish.They allowed us to come into the country and gave me my papers. We tried to leave, but they brought us back from Botswana.
Now we are just waiting and waiting.
This is a nice country; it's the people who hate us.
I don't understand all this hate. I want to go back to Somalia and live and die in peace. The war is still going on, but at least I will be safer there.
Comments
comments