14 cabinet ministers sign a petition to call Somali PM Abdiweli to resign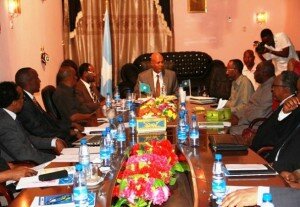 About 14 ministers of the current cabinet of the Federal Government of Somalia have signed a petition that calls the country's Prime Minister Abdiweli Sheikh Ahmed to resign from his position, RBC Radio reports.
The petition was handed to the sitting Prime Minister on Sunday evening as the group of the 14 ministers also advised the PM to follow their advice.
"As the country risks to slip back and fall into another failure following the jeopardized cabinet work, we have seen important to call you and advise you to quit from your position as the Prime Minister," the petition said.
The ministers believed to be the supporters of President Hassan Sheikh Mohamud described their call as "safeguarding the nation and the interest of the Somali people".
Sources obtained by RBC Radio confirmed that the 14 ministers also warned that they will resign themselves if the Premier does not resign within the next 24 hours.
The petition came following a meeting by the supporters of the Prime Minister including other ministers and members of the Parliament in which they defended the Mr Sheikh Ahmed and suggested the President to stop intervening cabinet affairs.
It was not immediately available of the position of the Prime Minister Sheikh Ahmed who faces severe rift between him and President Mohamud.
Comments
comments