Photos: Mogadishu Car Bomb Blast Kills Immigration Officer
AFP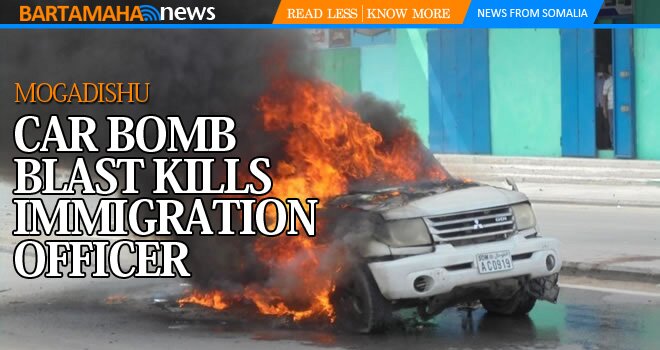 Mogadishu (AFP) – Two people were seriously wounded Sunday when a bomb exploded in their car in the Somali capital Mogadishu, police said.
"We believe that the bomb was attached to the car," police officer Ahmed Siyad said.
The blast, on one of the seaside capital's busiest and central roads, set the car on fire.
Witnesses said the blast could be heard several streets away.
"The car burned up into flames, there were two people with their bodies covered in blood, it was horrible," said Muhsin Adan, a witness.
"They were alive, but I'm not sure if they would survive such injuries," he added.
There was no immediate claim of responsibility for the bomb, but Al-Qaeda-linked Shebab insurgents have stepped up guerrilla attacks in the capital and elsewhere in the country after being chased from key cities by African Union-led troops.
The attack took place on a busy road leading to the government district.
The identies of those wounded was not immediately clear.
Comments
comments