Somali pirates hijack vessel with 19 Indians on board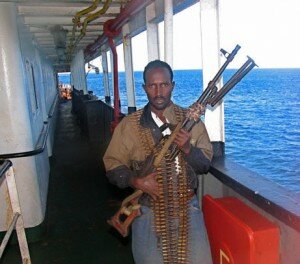 Bartamaha (New Delhi):- In yet another strike, Somali pirates have seized one more vessel with 22 crew, including 19 Indians, on board in the Gulf of Aden.
With the seizure of this vessel, the number of Indians held hostage by the pirates has gone up to 57 as 38 are already in their captivity for over a month.
"We have received information that a chemical tanker M V Marida Marguerite with 22 crew members – 19 Indians, 2 Bangladeshis and 1 Ukrainian – has been hijacked in the Gulf of Aden yesterday," a senior official told PTI.
The tanker en-route from Kandla in Gujarat to Antwerp in Belgium was carrying approximately 11,000 MT of chemicals, he said.
"The Shipping Directorate is in contact with the managers of the vessel for regular updates and measures have been initiated for early and safe release of the crew and vessel," he said.
The official said more information regarding the hijacking could be expected in the next three to four days.
In the past negotiations involved the owners, seafarers' bodies and pirates, without any government representative.
Somali pirates had seized 11 dhows (slow-moving vessels) with over 120 Indians on board over a month ago.
Of them, five vessels, including a dhow, and 38 Indians continued to be in their custody.
Repeated attacks on Indian vessels had also prompted the government to issue warning to dhows about the dangers in those waters, particularly along the sea-lanes of Salalah and Male.
The merchandise conducted on seas is worth about USD 110 billion annually, with Indians being the major players.
———–
Source:- timesofindia
Comments
comments