Targeting Somali business hub in city fuels firm's growth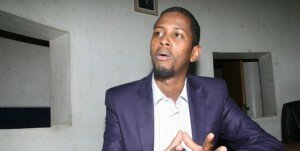 It started as a travel agency, primarily targeting the business community of Somali origin in Eastleigh, Nairobi.
According to Abdulgani Ali, the managing director of Sagal Travel and Tours, the firm was established in 2000 to tap the growing business opportunities in Eastleigh.
Before then, the business community in Eastleigh faced challenges getting a travel services that would cater their needs, either in business, leisure or religious.
"We started by targeting the business community in this area who sought to travel to destinations like Dubai or Somalia," Mr Ali said in an interview, adding: "But, we now serve a much wider clientele including government officials, corporates like banks, and holiday makers".
Thirteen years later, it has outgrown its niche and is now a global brand, which last year generated about Sh700 million in turnover.
Its 27-year-old boss, Mr Ali, who also started out as an employee at the firm is now one of the main shareholders, holding a 15 per cent stake.
The company, which is now owned by four shareholders, was established with Sh150,000 start-up capital, says Mr Ali, who joined the venture five years later as a travel consultant after completing an International Air Transport Association course in travel consultancy.
In 2007, by virtue of his experience and his value to the company, the two founder directors opted to give him a five per cent stake in the investment as a strategy to retain his services given that he was, by then, considering joining a major airline as an employee with a better pay package.
"I never made any financial contribution to become a shareholder in the company. By the time I wanted to leave, the two shareholders gave me five per cent stake, which they kept increasing gradually to the current 15 per cent," Mr Ali said.
However, competition has now intensified with about 30 different travel agencies operating in Eastleigh.
So, how has the firm managed to be successful to an extent of winning major awards from leading global airlines?
Besides serving the business community well, the agency has also been doing Islamic Pilgrimage (Islamic tourism) targeting Muslims visiting Mecca, Saudi Arabia, says Mr Ali.
The company also initiated chartered flights to Northern Kenya in 2009 to cater for politicians, government officials and potential investors in the area, with a frequency of one charter flight that carries about 30 people to and from Mandera each week. This has increased the number of tickets sold four fold in the last five years.
"We used to sell about 5,000 tickets a year in 2008, but we now sell over 20,000 as of last year," he noted.
The firm has been nominated for the world travel awards that will take place in Nairobi in October this year and will battle it out for the top honours with nine other nominees.
On expansion, the firm says it will tighten its grip on travel and tourism sector, which has high growth potential especially given the growing trade globally.
"We've also capitalised on the return of peace in Somalia, where we have two offices in Mogadishu and Hargeysa, Somaliland," Mr Ali said. Now, the company has four offices in Kenya, Uganda, Somalia and Somaliland but has plans to open more in the region.
Although the industry has a lot of potential, there are still many challenges, which include the restrictions of travel on the African continent which has in turn hindered business growth and trade expansion.
Pricing is also a major issue, especially with rising competition from both the local and international travel companies, with some players undercutting others in a bid to remain in business.
"The challenge of pricing in this industry is very big in Kenya. Many players are keen on undercutting each other rather than offering quality, service" he said.
___
Daily Nation
Comments
comments