VIDEO: Denver Somali community says it's under scrutiny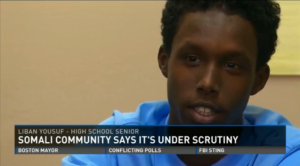 KUSA- It's a local community, whose members say they have come under greater scrutiny in the past two weeks.
Earlier this month, federal authorities said three teenage girls left their Denver-area home, and headed to Syria to join the militant group ISIL. They were stopped at an airport in Frankfurt, Germany.
Two of those girls are Somali sisters, and the entire episode has come as a shock to many Somalis in the metro area.
Members of the Somali community said what the girls did should not reflect on all of them, but it has. A small group from the Somali Community Center of Colorado sat down with NBC News to share what they say has been a whirlwind of shock for many of them.
"You see stuff like this on the news and you go, 'Oh, that's in another place' and you were shocked because, once, it's where I live," 17-year-old Liban Yousuf said.
Yousuf, and his 14-year-old sister, Nimo, both went to high school with the three teens.
"You never hear of it happening in Denver," Nimo Yousuf said. "You hear of it happening in a lot of other places."
"We disagree completely with what they're doing," said Mohamed Nur, president of the Somali Community Center of Colorado. "It's not Islam's way."
The vast majority of Somalis are Muslim. The country has been in upheaval for decades and many Somalis have settled in the U.S., including Colorado. It is a home, they say, they want to protect.
"Extremism exists in every society and we have to work together to resolve this," said Omar Nur, program director for the Somali Community Center of Colorado.
The group also said parents need to be aware of what their children are listening to and seeing online, because it is a tool that ISIL is using to recruit, as they have seen with those three local teens.
Source: 9 News
Comments
comments