SOMALIA: Dial 777 for an ambulance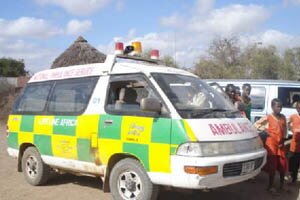 NAIROBI, 15 April 2009 (IRIN) – Rufai Mohamed Salad risks life and limb to provide daily ambulance services in war-torn Mogadishu, a city where even the largest hospital does not have an ambulance.
Salad and a friend, Mahamud Abdirahman Ali, came up with the idea of providing an ambulance service when they realised that many wounded people often died before they could get to hospital. They call the volunteer service LifelineAfrica.
"Every day we saw people dying on handcarts before they could get to hospital," Salad said.
Prior to Salad and Ali's volunteer ambulance services, the handcart was the preferred means of taking the injured to hospital, because using a vehicle was too dangerous. The last motorised ambulance service in the city was in 1990, at the start of the civil war.
Driving an ambulance is a dangerous undertaking in Mogadishu, but these volunteers do it daily. "So far we have been lucky," said Salad.
Since they started the service in December 2008, only one paramedic has been injured "when government forces opened fire on one of our ambulances", Salad said.
Obstacles they encounter include road blocks – and goats. Salad's ambulance recently ran over a goat in the rush to hospital.
"The goat owner insisted we pay for it. I told her we would once we got the person to hospital," Salad said, adding: "When she learnt that we were doing this for free, she told us to consider the goat as her contribution to our efforts."
The ambulance service, now consisting of six vehicles, serves the whole of Mogadishu.  The service is sustained by contributions from well-wishers as well as funds from Ali, who is now a businessman.
"NationLink group [a telecommunications company] provided us with free communication lines," said Salad. Abdullahi Ali Amir, sales and marketing manager for NationLink, told IRIN that apart from providing free phone lines, his company was also contributing fuel and medical supplies. "It is the least we could do…They are the ones risking their lives to help the population."
Each ambulance is manned by a driver and two paramedics. All know how to drive, so in case something happens to the driver one of the paramedics can take over.
Salad said anyone requiring the service just needs to call 777: "We are a round-the-clock, seven-day-a-week service."
Hundreds of lives saved
Dahir Mohamed, deputy director of Madina Hospital – the largest in the city – told IRIN LifelineAfrica had saved hundreds of lives since it started operations.
In the past, Mohamed said, many of the injured arrived at hospital after losing too much blood.
"On Monday [13 April] we had 20 injured and they brought in 19," Mohamed said. "Until they began their service it was almost impossible to get the injured to hospital at night. Now it is almost normal to see the ambulances bringing people in at 2am."
One amazing thing, Mohamed said, has been "the respect shown by rival militias and the public to the ambulances".
Comments
comments