Video: The City of Qoryooley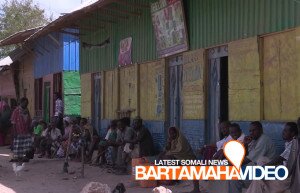 Residents of Qoryooley, a town South West of the Somali capital Mogadishu are enjoying relative peace and improved security.
Located 120 kilometres from Mogadishu, Qoryooley was rescued by joint forces of the Somali National Army and the African Union Mission in Somalia (AMISOM) in an operation conducted last month.
Today, farmers are able to return to the gardens and the people are able to conduct business freely in the town, simple acts previously impossible while the town was under al Shabaab terror.
AMISOM QORYOOLEY STABILITY from AMISOM Public Information on Vimeo.
The AMISOM troops guarding the town together with SNA soldiers say the local residents have been cooperative and work closely with them.
"We are doing well with them, they are co-operative, they assist us very much.
They tell us the movements of al-Shabaab. The problem they are facing is with al-Shabaab; they have managed to block these roads coming to the town threatening the civilians not to come to stay in this town where AMISOM is occupying," says Maj. Henry Cherotich AMISOM Ugandan commander of Infantry battalion.
The residents say their lives are now much better and they are able to go about their business without having to worry about being attacked by al Shabaab.
"Our life is ok, we do not have problems, thanks to God. The AMISOM soldiers are good people, they gave us peace. The al-Shabaab were troubling us but now they were chased away and that is good. We are harvesting these tomatoes, we sell our products at the market, we don't have problems thanks to God," says one of the residents.
Qoryoole previously served as a strong training and logistical base for the insurgents.
The operations launched by AMISOM in February this year saw at least 10 towns rescued from the al Shabaab and are to be spread to other areas.
AMISOM, working together with the SNA says the operations will continue to allow freedom for the Somali people and a more conducive environment to facilitate the Federal Government of Somalia in ensuring law and order.
Comments
comments