Kenya: Ministers demand transfer of officers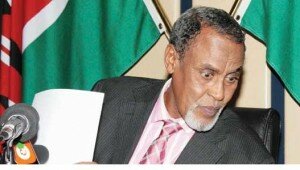 Two Cabinet ministers have demanded the immediate transfer of all police officers involved in an operation to arrest suspected terrorists in Nairobi's Eastleigh, accusing them of harassment and extortion.
Defence minister Yusuf Haji and his Northern Kenya Development counterpart Mohammed Elmi also threatened to quit the government to protest the "harassment" of the Somali community in the area by security officers.
"It is only that Parliament is dissolving soon otherwise we would have resigned to show the government that we are not amused," said an angry Mr Haji when he led a team of MPs from North Eastern Province to hear the grievances of Eastleigh residents and the business community.
"We are telling the Inspector General of Police that we will not tolerate the harassment of our people by his officers," he added.
The MPs, who included Mr Haji, Mr Elmi, Mr Hassan Duale (Dujis) and Ms Sophia Abdi (nominated) had toured the area in the wake of a massive crackdown by security officers to flush out suspected terrorists following a series of deadly grenade attacks that have killed scores of residents late last year. (Read: Police nab 300 after Eastleigh blast)
Members of the Eastleigh District Business Associations led by their chairman, Mr Hassan Guled, accused security officers of extorting money and looting property from residents whenever they conducted a swoop in the area.
Extortion claims
"Those arrested must part with Sh15,000, whether you are an adult or a child," said Mr Guled. A local businessman said he had been robbed of Sh500,000. But the Criminal Investigation Officer (DCIO) at Pangani, Mr Dumba Tankarani, denied this, saying the money those arrested paid was cash bail "which is normal practice."
Source: Daily Nation
Comments
comments