Outrage as Kenyan president invited to Britain despite facing war crimes trial for causing a thousand deaths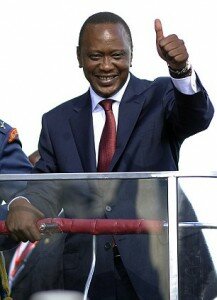 The newly-elected President of Kenya has been invited to Britain for a visit despite being due to stand trial for war crimes linked to a thousand deaths.
Uhuru Kenyatta was elected in March after just scraping past the 50 per cent threshold in votes, despite facing charges of crimes against humanity at the International Criminal Court.
It will be his first trip to a Western capital since his election in March. Britain and other countries said before his victory that, if he won, they would only have 'essential contacts' with him because of the court case.
'Kenya is a vital partner on Somalia and we judge our contact according to the issue concerned,' a spokesman for Britain's Foreign Office said.
Kenya was playing a crucial role in stabilising neighbouring Somalia and housing refugees, he added.
A source close to the Kenyan presidency and a diplomat both said Kenyatta was likely to travel to the meeting, which aims to build international support for Somalia, where Kenyan troops have battled Islamist militants.
The move reflected the West's desire to keep Kenya as a stable ally at the expense of other principles, Kenyan rights activist GeorgeMorara said.
'It is a U-turn in the UK and the Western world's approach to the whole issue of impunity,' Morara said.
Syrian dictator Assad 'massacres up to 100 men, women and children' with knives and guns as U.S says arming rebels is now an option
The March election passed off peacefully, a relief to many Kenyans after ethnic violence erupted following the vote five years ago.
The charges against Kenyatta's in The Hague relate to allegations he had a role in orchestrating bloodshed last time.
Western states view Kenya as an ally in their battle against Islamist militancy in the region and it has sent about 5,000 troops to Somalia as part of an African force that has driven back al Shabaab Islamist fighters.
The British spokesman said the decision to invite Kenyatta was taken in part because the president had committed to cooperating with the court in The Hague.
Britain's high commissioner (ambassador) to Kenya, Christian Turner, whose remarks about essential contacts had angered Kenyatta's backers in the former British colony, offered the invitation during a meeting with him on Wednesday.
After the election result, Western diplomats had privately indicated that they would take a pragmatic or 'flexible' approach in assessing the level of contacts with Kenyatta, 51.
As well as concerns about alienating an ally, Western powers are wary of jeopardising trade ties with east Africa's biggest economy and worry the diplomatic wrangle could open the way for China and other Asian states to extend their influence.
Source:- Daily Mail
Comments
comments