Kenya wants KDF costs in Somalia repaid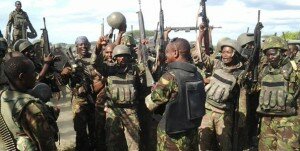 NAIROBI; KENYA: Kenya wants the United Nations to reimburse it for expenses incurred during military operations in Somalia.
The Cabinet meeting at State House, Nairobi on Thursday noted that Kenya had only gotten a compensation of Sh2.5 billion out of Sh11 billion.
"The meeting pointed out that the funds were required to finance urgent social and economic development programmes in the country," said a statement from State House.
The meeting was briefed on the progress being made by Kenya Defence Forces, who are part of the Amisom mission in Somalia.
Kenya's troops crossed to Somalia in 2011 to hunt for Al Shabaab militants who had been blamed for various insecurity incidents in the region. The meeting said Inter-Governmental Authority on Development should urgently convene a meeting to plan the reconstruction of Somalia and tackling of humanitarian challenges facing the country.
An appeal was made to the international community to play their role and help fund the humanitarian support in Somalia.
The meeting was also briefed on the status of the implementation of Lake Turkana Wind Power 300 Megawatts Wind Farm.
The meeting, which was chaired by President Kibaki, supported and approved the project noting that it will diversify Kenya's electricity supply and provide a new source of clean energy.
Source: Standard NewsPaper
Comments
comments