Two Somali reporters released on bail, two still jailed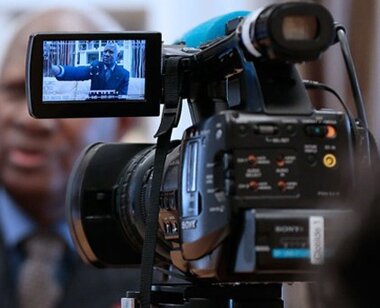 Mogadishu (AFP) – Two Somali journalists from a major radio station have been released on bail after two months in jail but two others remain behind bars accused of inciting violence, colleagues said Wednesday.
Radio Shabelle owner Abdimalik Yusuf Mohamud was released on bail Tuesday, but was ordered to surrender his British passport and remain in Somalia until the court decides if the case will proceed to trial, the National Union of Somali Journalists said.
Senior editor Ahmed Abdi Hassan was also released on bail.
However, journalists from Shabelle's sister station Sky FM, senior staff members Mohamud Mohamed Dahir and Mohamed Bashir Hashi, remain in jail.
All reject the charges.
Both stations, popular in the capital Mogadishu, have been off air for over two months.
"Two of the four journalists from Shabelle and SKY FM radios were released on bail," Mohamed Ibrahim from the National Union of Somali Journalists told AFP.
"We call on the Somali government to provide fair trial for those still held in custody and allow the radio station to resume operations."
The radio stations were closed in August after they were reportedly critical of a military operation to disarm a militia leader in the capital Mogadishu that escalated into heavy gun battles.
"We have done nothing wrong and all charges against us are baseless," Mohamed told AFP after being released.
"I'm like a monkey tied with rope so it can be pulled when needed."
Radio Shabelle has been briefly shut by the government at least three times in recent years.
It has also been threatened by Somalia's hardline Shebab fighters over its reporting, and several of its journalists and two of its directors have been killed.
"They have to release the other journalists and allow us to broadcast again," Mohamed added.
Rights group Reporters Without Borders urged the court Wednesday to "guarantee due process for all four journalists".
Comments
comments