AMISOM congratulates Burundi on its independence anniversary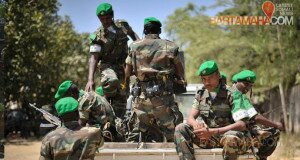 The Special Representative of the Chairperson of the African Union Mission to Somalia (SRCC) Ambassador Mahamat Saleh Annadif has congratulated the Republic of Burundi on its 52nd independence anniversary.
"On behalf of the mission, I extend our warm wishes and message of goodwill to the people of Burundi on the occasion of their independence. We join Burundians in celebrating this important chapter of their history," said Ambassador Annadif.
"We also acknowledge the immeasurable sacrifice that the Burundian National Defense Forces (BNDF) have made in the peace efforts in Somalia. The troops rely on immense support at home thanks to Burundi's national spirit of unity with its African brothers," added Ambassador Annadif.
Burundi is one of six troop contributing countries in AMISOM and has the second largest contingent in the mission. The troops are currently in charge of AMISOM Sector 5 which covers the Middle Shabeelle region of Somalia.
Comments
comments