Al-Qaeda, Somali rebels cooperate: AU commander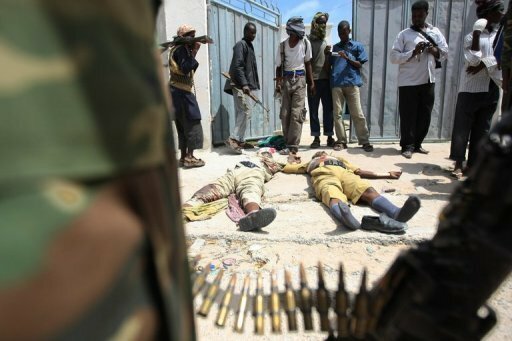 MOGADISHU — Al-Qaeda and Islamists fighting to topple Somalia's government provide "mutual support" to each other, the head of the African Union peacekeeping force here told AFP in an interview.
Major General Nathan Mugisha of Uganda, who commands a force of nearly 5,300 soldiers in Somalia, also said the relatively small size of the deployment has limited what it can do to defend the government against the Islamist onslaught.
"I think there's a relationship between activities here and Al-Qaeda," Mugisha said in the interview at the force's headquarters at Mogadishu airport. "There's mutual support and I think the way they behave is similar."
Asked whether there were foreign fighters in Somalia, he said, "yes there are." Somali President Sharif Sheikh Ahmed has said several hundred foreign fighters have come to help the Islamists.
Somalia has been embroiled in conflict since 1991, but Western nations fearful of the country becoming an Al-Qaeda safe haven hoped a government they backed led by Sharif would be able to restore some semblance of order.
Instead, an offensive earlier this year by two Islamist groups has left the transitional government with control of only a small part of the Somali capital.
The remainder is held by the Al-Qaeda-inspired Shebab and the more political Hezb al-Islam militia.
African Union troops here since 2007 were supposed to number 8,000, but only two countries — Uganda and Burundi — are contributing for now. They are stationed at strategic areas in Mogadishu.
"Our numbers are limited and therefore our activities have to be limited," Mugisha said.
Responding to criticism over civilian casualties during clashes between the AU force and insurgents, Mugisha said "we only react after a lot of provocation, but we are under guidance and instruction to restrain."
"We are here to support the transitional federal government and its institutions," he said.
The force seeks to convince Shebab fighters to put down their weapons and negotiate, said Mugisha, who added that he still has faith in the bid by President Sharif, seen as a moderate Islamist, to bring peace to the country.
"We have channels of communication (with Shebab) and we encourage all the belligerents to come reconcile, stop their hostilities, come together as brothers and sisters, be able to resolve the problems in their house," he said.
"The international community has got a big role to play. It cannot be thrown to the Somalis themselves."
Mugisha argued that because the country is so divided, a negotiated settlement is the only way to end the conflict.
"Since there is no single group that can take this area, the political solution is the way forward," said Mugisha.
"It is high time that the Somalis themselves understood it … They should be able to respect whatever solutions or agreements they have reached, respect them and honour them. With the support of the international community, then peace will hold."
The AU commander said Sharif, the former number two of the Islamic Courts Union that fought against the previous government and its Ethiopian allies and briefly held power in 2006, remained a "good ally."
"He's still talking, encouraging his colleagues to join the government, to join the transitional government so that they are able to sort out their problems," said Mugisha.
"If he still opens the window of opportunity, I think he is still a good ally to work towards getting peace."
____
Source: AFP
Comments
comments