Kenya: Tricks, Intrigues and Somali War – Grab Everything And Justify It By War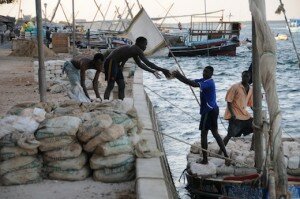 Welcome to Kenya. Karibu sana! And welcome to the world of Kenyan politics, of intrigues and cruelty. Welcome to the world where 'seemingly' unconnected events like the Kenyan invasion to Somalia, kidnapping of Western tourists and aid workers, gigantic infrastructural project and brutal land grabs are all bundled into one cynical and deadly chain of events.
The Kidnappings and the War
October 2011 and the Kenyan soldiers moved across the border to Somalia, backed by the air force as well as local and foreign propaganda campaigns.
MOGADISHU, Somalia (AP) October 16, 2011 — Kenyan military forces moved into southern Somalia on Sunday, an official and residents said, a day after top Kenyan defense officials said the country has the right to defend itself after a rash of militant kidnappings of Europeans inside Kenya.
Of course any real war always needs big justifications. The war could be, after all, an embarrassing affair. It is all about crossing the international borders, about violating territory belonging to a neighboring state, and often about killing of hundreds or even thousands of innocent and defenseless people. The leaders who are ready to bring their country to war should have some solid and credible reason prepared, or at least they should have something that could be pulled from their sleeves, able of convincing the nation and the rest of the world that there is one.
The events that later helped to justify the Kenyan invasion of Somalia arrived conveniently (some would say suspiciously so) and in full force: without any warning Kenya experienced spectacular string of kidnappings against the foreigners.
A British citizen David Tebutt was killed while resisting attackers at the Kiwayu beach resort near Somali border. His wife Judith was taken to Somalia and held hostage for several months before being released in March 2012. Few days after the tragedy, a wheelchair bound 66-year old French woman who was recovering from cancer – Marie Dedieu – had been kidnapped from her rented home on Manda Island. She died in captivity. The absolute lack of compassion on the part of her kidnappers shocked the world. But that was not the end of the events: two Spanish aid workers (employed by Medecins Sans Frontieres (MSF)) were kidnapped from the heart of Dadaab refugee camp on October 13, 2011.
All these actions occurred one after another, literally back to back, in October 2011.
The news of the kidnappings quickly spread all over the world, partially because of the sensationalist coverage of the local and international media. This gave the Kenyan tourism industry a deadly blow. The bookings came almost to a stop, especially on the Lamu Archipelago. Foreigners began to evacuate the coast.
There was hardly any serious investigation done by the Kenyan press to find out who was really behind the kidnappings. As if by some invisible command, all fingers were suddenly pointing at Al-Shabaab. The Kenyan government declared that it had no choice but to take immediate action. And act it did, with surprising speed and organization hardly seen in this endemically corrupt and disorganized state.
Al-Shabaab was designated as the culprit. The official mission was defined, briskly: 'To liberate the hostages from Al-Shabaab and to push the Islamist militants as far as possible from the Kenyan border.'
The problem was that there was absolutely no proof that Al-Shabaab had been involved in any of the above-mentioned kidnappings. Its leaders strongly denied any participation.
As Kenyan troops first penetrated Somali territory north of the border, even the Western-backed Transitional Federal Government of Somalia (TFG) began protesting against the invasion, and Somalia's President Sharif Sheikh Ahmed declared that his "administration and people in Somalia opposed the presence of Kenyan troops since the Somalian federal government 'had no agreement with Kenya beyond helping us with logistics'", as was reported by the ABC News (Australia) on October 25, 2011.
The experts were also skeptical (kidnappings to differ from usual Al-Shabaab's strategy), but when the whole scenario began to look like a pre-arranged farce, the West suddenly threw its support behind Kenya (its long time ally and client state) and almost all critical voices fell silent within a few days, including those from the TFG.
The few voices of dissent in the mainstream media were overwhelmed by personal and hardly spontaneous attacks:
Alex Perry wrote for Time Magazine "Global Spin" on October 31, 2011:
Kenya's hasty invasion of its northern neighbor Somalia took a tragic turn late Sunday when, according to witnesses on the ground, the Kenyan air force bombed a refugee camp sheltering those fleeing Somalia's famine, killing three children and two adults.
His piece was met with a barrage of vicious and vitriolic rounds. Almost all comments were negative, some out rightly insulting.
The Operation Linda Nchi (Protect the Nation in Swahili) was awarded full legitimacy from the West and has been going on with no challenge ever since, of course with tremendous cost to Somalia and its people.
While actual fighting has been done by the troops of Kenya, Ethiopia, the Transitional Federal Government of Somalia (TFG) and a few pro-Western fractions inside Somalia, the support has been coming mainly from the United States, Denmark, Israel and France – the country which in the last few years is desperately trying to reestablishing itself as one of the major neo-colonialist powers on African continent.
* * *
According to Micah Zenko  from CFR.org: Initially, many believed that Kenya coordinated its invasion with the Pentagon, in a similar fashion as Ethiopia in December 2006, when the United States provided detailed intelligence, military training, and naval support. This perception was further reinforced when the U.S. ambassador to Kenya, Scott Gration, told the Financial Times: "We are looking to see how, as an ally in this conflict on terrorism, can we help the Kenyans."
Several US officials went out of their way to deny any involvement of their country in the invasion, but based on the track record of Kenyan foreign policy almost since its independence (for decades, Kenya has been a bastion of fundamentalist capitalism and staunch ally of the West against all independent-minded movements and governments in the region) it would be hard to imagine that Nairobi would dare to take unilateral action of such magnitude without consulting the Empire.
The Guardian Weekly's Jean-Philippe Rémy reported on 8 November 2011:
Several sources agree, however, that the Kenyan intervention plan was discussed and decided in 2010, then finalized with input from western partners, including the US and to a lesser extent France. Nairobi seems to have seized on kidnappings of foreign nationals by Somali groups on Kenyan territory as an excuse to launch an operation ready and waiting.

… Nairobi plans to set up a semi-autonomous region, Jubaland. A puppet government would be used to control resources and facilities, starting with Kismayo, a port used by smuggling networks with Kenyan links, according to a UN report published in July…
Would Kenya manage to control Kismayo and one day to even ripe the benefits of participating in the 'peacekeeping' mission in Mogadishu, "Lamu, Kenya's traditional port, mainly used for luxury tourism until now, would be converted into an oil terminal, providing an outlet for the as yet unexploited oilfields of southern Sudan and northern Kenya. Radiating out from Lamu, a rail and road network would connect Ethiopia and Sudan to the Indian Ocean," concludes The Guardian.
The Port
To listen and believe the discourses of Kenyan officials, in a few years the port of Lamu could become the jewel in the East African (otherwise desperately shabby) infrastructural grid.
The project is called LAPSSET, would cost up to 25 billion dollars (depending who is quoting the numbers) and was officially launched by President of Kenya Mwai Kibaki, President of the Republic of Southern Sudan's Salva Kiir and Ethiopia's Prime Minister Meles Zenawi. LAPSSET is an abbreviation for "Lamu Port and Lamu Southern Sudan-Ethiopia Transport "corridor. In theory, the project is supposed to be funded by Kenya and its landlocked neighbors – Ethiopia and South Sudan, although there is no transparency in exactly how. Plans are grandiose and include high-speed trains, highways, new airports, pipelines, refinery and brand new resort towns.
The locals and foreigners are equally skeptical.
"South Sudan and Kenya signed a 'Memorandum of Understanding' for the 'option' of a pipeline. Oh, it is a nice idea", says Frank Feremans, the Belgian owner of a legendary 'Lamu House' hotel. "There is no plan; it is this 'You build the port and the market will follow' theory. The Permanent Secretary of the Ministry of Public Works arrives, explains to people through a meeting that the port will be very small, and that the pipeline will emerge at sea where ships will dock. It will not be intrusive. When the plans arrive some time later, they are for 32 berths. 'Why not build the new port in Mombasa?'"
At night, at a moonlit beach of Manda Island, expatriates are frequently gathering at Lamu House Beach Club, savoring culinary delights consisting of Indian and Belgian fares. Italian wine is flowing freely, as is the conversation. This crowd consists of many hardened part-time and permanent residents, investment bankers, and business people as well as rich retirees. Some live here permanently, some for a few months a year only.
In this company hardly anybody actually believes that the port could be built at any point in the foreseeable future, and these are people who have access to enough inside information to support their theories.
"Raila (referring to Prime Minister Odinga) was recently in Europe", says one of the guests. "He visited the EU but secured no money. Corruption here is what matters. Everybody knows that if they get 1 billion dollars, hundreds of millions would simply disappear."
Someone who recently drove along the coast chips in: "They can't even build the road from Malindi. They put the foundations, but they did not pave it… there is just tarmac. Once it rains, it will be all gone."
Back in town, a skipper with the nickname 'Lemon' just shakes his head lost in thought:
"Here we all know that the kidnappings were not performed by Al-Shabab. By gangs, yes; by the gangs from outside this island – most definitely, but not by Al-Shabab. The kidnappings destroyed our livelihood; there is hardly any tourism here, now. It means that we are desperate.  Now suddenly everybody wants the new port to be built. Even those who were protesting few months ago are now ready to accept the project."
I ask him whether he thinks that everything is interconnected: the kidnappings, the war and the port?
"It is possible," he answers. "It is very likely. That is what the people are saying."
Another skipper, Mohammed, is bitter and unusually outspoken:
"Here in Kenya, corruption is everywhere. Look at Kibaki himself, or at our MPs. You are trying to get elected, then you better have a coffer full of money."
As he speaks, desperate toots and beggars are pitching mostly imaginary services or simply asking for bob – slang for 'shillings'.
"All eyes are now on the port," continues Mohammed. "For me, even if I don't like it, things are already in motion. But where they are going, I don't know. Billions of dollars are involved and people are worried. The majority here is scared that jobs will disappear to those in Nairobi, exactly as it happened several times in the past."
I walk to the Ministry of Lands and Settlements, straight to Department of Land Adjudication And Settlement. I stumble over Mr. Bosko (when it comes to the port and kidnappings, everyone suddenly forgets his or her second name). He is evasive but at the end decides to speak:
"98 to 99 percent of the people support the new port project. Those who do not support the project are being manipulated by those rich people who are not involved in the project but would like to be."
Mr. Bosko did not mention the fact that some heads of states of the East African Community (EAC) do not seem to be at all ecstatic about the project.
On March 4, 2012 All Africa ran the opinion piece by Allan Brian Ssenyonga: "Will the EAC Be Upset By Lapsset?":
Considering what the LAPSSET transport corridor looks like on paper. It may not be insane to speculate that the ultra capitalist Kenyans will overtime develop a more northern outlook and thus 'upset' the direction of the EAC project. Over to you Uganda, Rwanda, Burundi and of course Tanzania!
Lamu Archipelago
Lamu is lush and tropical, with a nostalgic and ancient 'Stone Town' designated as the world heritage site by UNESCO in 2001, and with dozens of ancient villages and settlements. Lamu Town is a Swahili settlement with narrow streets, traditional boats docked at the waterfront, old mosques and imposing fort. This place had been for years a powerful magnet for well-heeled foreign visitors with deep pockets and adventurous streak.
The town itself is very poor and full of touts, but it somehow manages to maintain a certain medieval charm, not unlike that of Zanzibar. UNESCO describes it as "the oldest and best-preserved Swahili settlement in East Africa, retaining its traditional functions." There are no cars and no scooters on the island – everybody walks or rides donkeys and cargo is moved over water.
In Lamu, local poverty is rubbing shoulders with foreign hedonism reflected in ridiculously overprized hotels, 'homestays' and restaurants; most of them owned and managed by expatriates.
Clean white-sand beaches and mangroves; narrow and wide waterways and humble fishing communities are dotting the archipelago. Many foreigners call all this the 'paradise', although only few local people would describe their living as divine.
The Muslim Swahili coast of Kenya of which Lamu Archipelago is a firm part has been brutally marginalized by Nairobi ever since independence. The great and ancient Swahili culture was viewed with suspicion and envy by rival tribes from the highlands and by the first government of Jomo Kenyatta.
To complicate things further, the 'paradise' is located right at the doorstep to Somalia, a war-torn country for decades destabilized by the Western interests.
And Somalia is for years struggling without any permanent and effective government. Its present foreign-backed administration is locked in combat with an Islamist group Al-Shabaab, which the West accuses of being closely linked to Al-Qaida. According to the reports from mainstream media, the sea off the coast of Somalia is constantly 'congested with the pirates' who are attacking for ransom dozens of international cargo vessels.
* * *
After almost an hour of tough negotiation I rent a speedboat with a crew and attempt to venture towards the construction site of the new port, and then towards the sea and the Island of Shanga which lies on the way to Somalia. But the skipper and his crew are confused and thoroughly impoverished. They don't have fuel on board. They begin to play games, demand money in advance, and then fail to secure necessary amount of fuel for our long journey. Changing the crew takes another hour.
Everything appears to be thoroughly disorganized, dysfunctional, and desperate.
Finally we shoot towards the narrow waterway rimmed by mangroves on both shores. The heat is awful. The ships carrying workers look like ghosts; they are overcrowded, and moving slowly and majestically in depressing silence.
An enormous and pristine bay suddenly opens in front of our eyes, the bay that is, according to the plan, supposed to be converted to container and tanker port.
Now our boat literally flies over the water, the engine roaring. Ancient Swahili settlements, some more than 1.000 years old, are emerging and disappearing by the side, fantastic rock formations of Kiunga Marine Park are on the horizon.
With every wave that the boat has to negotiate, Somalia gets closer and closer.
Then appears Shanga Island, the lost world of ancient Islamic ruins, and as increasingly credible theory indicates, an island once inhabited by the crew of the boat that sailed from Shanghai and got shipwrecked in this area.
One of my missions here is to photograph ruins for a major daily newspaper in Beijing. I hire a guide and begin my exhausting walk towards the lost city.
But not even two minutes into the journey, and my guide begins to speak in agitated voice:
"People here are so scared! They are afraid to sail after dawn. They are afraid of the foreigners, of white people."
But why would foreigners come here?
"They patrol the waters", he explains. "These are joint patrols between the Kenyan NAVY and Americans. They call foreigners the FBI here. They say the white people are all Americans, but they are from many other countries, including England and Israel. But people here are illiterate. More than 90 percent in the village can't read and write. For them, every big white person is an American, an FBI."
What happens to the fishermen who are stopped?
"They are questioned. Some disappear for 2 to 4 days."
"Does everybody come back, eventually?"
He doesn't know. This is an enormous area.
Two years ago I debated the same issue with my friend, leader of the Social Democratic Party of Kenya, Mwandawiro Mghanga, a former MP and a member of Foreign Relations Committee. This was long before the invasion, although direction in which the US – Kenyan relations was moving even then was crystal clear. Mr. Mwandawiro then openly explained the situation:
"What you have to know is that these things are clouded with secrecy. When I was in Parliament I repeatedly asked about the military agreements that Kenya had signed with the US and Britain. I demanded that they would be put on the table. Even as a member of the Defense and Foreign Affairs Committee of this country, I could not get the access to this information. So things are done behind the closed doors and people know very well that the Kenyan national intelligence and the army cooperate very closely with the US."
He then continued with his prophecy:
"Even though the US bases are not here, the US planes land and operate from the Kenyan Ocean at Lamu on the Kenyan Coast and even at Wajir, in the northern part of Kenya, where the British and the American built a big airport… Yes where their planes can land.  Even Jomo Kenyatta International Airport is often used for other than civilian purposes…

…Like I have told you: there is plenty to hide, including the cooperation between the CIA, FBI and Kenyan agencies when arresting our people…  Also, look at our foreign policy: our involvement with Somalia on behalf of the US – and the way it is going right now. It can only cost us much harm. We are the ones who will pay big price for following instructions and defending interests of the US in the region….
At the end of March 2012, almost half a year into the war, faces of the people of Lamu were reflecting exhaustion, hopelessness and deep sadness. The concept; the scenario that "Kenyan government accused Al-Shabab of kidnappings in order to justify invasion to Somalia on behalf of the West, while starving the Lamu archipelago so the population would accept construction of the new port" has been simply too complex for most of the people to grasp.
Mr. Kijogo Sikandara, a 74-year old captain, and a native of Lamu, seemed fully resigned:
"People here were sidelined and they suffered very much in the past because of Nairobi. But now, I don't know what would we do without the port project. Some people don't like it; many don't. They say that their land would be taken away because of the port and connecting roads and other infrastructure… They say that culture will change. I had been a boat captain for many years.  I had been transporting people between the mainland and this island for decades. I say: I don't mind anymore if this town becomes like Nairobi; at least young people will have some opportunity in life."
But does the captain believe that the project will  really be completed and that the benefits would go to the people. I ask, he doesn't know.
Then I am on the water again, the roar of the engine, the mangroves, the narrow channel, tiny Kililana community, then again tremendous bay, sharp left turn. I see destruction of forest and of mangrove everywhere, but there seem to be no massive construction.
"They are doing nothing, just building some port authority building away from the shore", I was told by Frank Feremans before I left Lamu. "The thing is: there is no funding. The World Bank – nothing. They thought that the Chinese would invest, but there is no sign of it. The Chinese are always interested in concrete and well-defined projects, not in some abstract schemes. Like right now: the Chinese are building power plant – they will do 80% and the locals 20%. Conditions are set. But what Kenya is suggesting regarding the port: "You build it and contracts will come" is not serious."
After there was no interest from China and from the European Union, the Kenyan government approached Indian companies, then China again, apparently at no avail.
My speedboat approached a floating pontoon jetty. From there, a road goes seemingly nowhere, into the jungle. There is no traffic, not even a movement. This is where President Kibaki made a speech about the greatness and benefits of the new port. This is where most of the speeches by politicians are made.
A man is sitting at the edge of the pontoon, fishing rod in his hand. He pays no attention to us. Apart of two guards aimlessly walking around and a fisherman, there are no people.
"Do you know about groups of people working around here?" My skipper asks.
A fisherman waves his hand towards the jungle. Some workers are building some building there. Nothing spectacular. Nothing that would look like 25 billon dollars.
"They destroyed Lamu for nothing", I hear back in town. "They ruined itjust in case they would be able to pull this project through."
I have nothing to reply to that. That's how the country has been functioning for decades, nothing new.
Dadaab, Refugees
Many parts of the country are already destroyed, but one doesn't often read about it.
The Western economic and geo-political interests are dividing Africa once again to several camps. At two extremes are the client states (or 'allies') like Rwanda, Senegal, and Kenya, and 'disobedient' ones (described as evil) nations that include Eritrea, Zimbabwe and until it was destroyed – Libya.
Client states could be in the state of total disarray, even a social collapse, but they could always count on support from Western propaganda machine.
For instance, Kenya is one of the most corrupt nations on earth, 154th(2011 data) out of 182 countries surveyed by Berlin-based Transparency International. It also ranks 16th from the top on so-called "Failed States Index" (2011), by one point better than Niger but worse than Burundi.  And these are statistics and perception indexes amassed by relatively friendly organizations. But this reality is not often highlighted in mass media.
Despite the upbeat macro-economic statistics, Kenya is facing some of the most serious problems in the world; it counts with the biggest slums in Africa, some of the highest homicide rates, tribal tensions and outright violence. Kenya is overflowing with internally displaced people since the post-election violence, which took lives of approximately 3.000 people in 2007/8.
Somali refugees are all over the country; there are approximately one million of them living in terrible and overcrowded camps, of which the largest one is called Dadaab, holding over 500.000 people. Hundreds of thousands of Somalis also live in all parts of Kenya legally, many of them taking advantage of endemically corrupt local administration, which is happy to sell under the table thousands of residency permits, even the citizenships.
The fate of Somali refugees is mostly awful. Dadaab and other camps are overcrowded, conditions terrible. Some refugees has been living here for two decades, with no right to work, with extremely basic education and other services mainly provided by UNHCR, no hope to return to their war-torn nation and very slim chance to be allowed to settle in Kenya or some third country.
"Do you know that we have a case here that says no refugee can be returned to Dadaab as conditions there amount to cruel and degrading punishment?" Wrote to me recently from Oxford Dr. Barbara E. Harrell-Bond, Director Fahamu Refugee Programme.
Last year I had been working in the camp, producing and directing 70-minutes feature documentary film "One Flew Over Dadaab".
"I arrived here one week ago and my impressions are more or less the same as they were back in 2007", explained Eva Andre from Community Services of UNHCR, as we were driving through the red earth road in a convoy of the UN Land Cruisers.
"Since 2007 the situation actually deteriorated and this is now the biggest camp in the world and it's no secret that the camp is overcrowded. Less children is going to school now than before…"
And there was drought and hunger in the area as I was filming. Then I was told the stories; endless stories of overcrowding, idleness, acute lack of hope, illnesses, brutal rapes, and permanent despair. Hospitals were full of new arrivals clinging to life with unimaginable determination.
Officially, Kenya periodically threatens to close the border with Somalia, claiming that it can't accept more refugees on its soil. It blames the international community for 'not doing more', or more precisely, for not 'paying more'.
In reality, all refugee camps combined house more than 1 million people and Kenya is gaining enormously from 'servicing' them. The camps are not only great sources of income for corrupt officials; they are also providing great job opportunities for the entire country.  Truck and bus drivers are bringing supplies and people, farmers are selling their produce, teachers are expecting to receive extra bonuses for working in Dadaab, and then there is entire army of security guards, translators, fixers, medical staff as well as construction workers. There is also an army of badly trained but well paid bureaucrats.
More destabilized Somalia becomes; more refugees are force to venture to Kenya across the porous and dangerous border. More overcrowded the camps become; more 'emergencies' there are and eventually, more job opportunities.
Only those with plenty of money could count on settling in Nairobi or elsewhere beyond the barbed-wire fences. Only substantial bribes could guarantee freedom.
Poor Somalis – true refugees – those who are escaping their country destabilized by the West (and now by Ethiopia and Kenya) are confined to awful tents and slum-style (or prison-style) accommodation, to basic rations and almost no hope for decent learning and upward or onward mobility.
"They don't want you to drive all the way to the border", explained a medic at Dadaab who did not want to be named. "Kenyan border guards rape Somali women, they often take all they have before allowing them to enter the country. Some people come fully dehydrated. Sometimes wild animals eat children alive or just attack the victims and let them die in the middle of the desert."
The misery of once proud nation – Somalia – appears almost beyond imagination, while the cynicism of the West unsurpassable. But then one remembers that there are other 'matches' like Afghanistan, DR Congo, Iraq, Libya and Palestine.
One refugee, a lady, a mother spoke to my camera: "We miss a lot our Somalia. We miss the land, we miss freedom of movement, and we miss the longest coastline in Africa. We miss so many things. And there was no rape in Somalia. Here there are so many rape cases. There, we spoke our language and we were bound by the same religion. We all miss the way Somalia was prior to 1991. Here we feel like in a prison where we are given food or more precisely, where we have to beg for food."
Foreign Interests
There seems to be no way out for Somalia, squeezed between Western colonies or client states of Djibouti (not much more than a military base of the US, France and other Western nations), Ethiopia, Kenya and the sea.
The West has its long-term plans for the entire vast region, from DR Congo (which already lost at least 6 million people in the recent history, trough the plunder of its resources by the regional neo-colonies of the West), to the newly 'independent' South Sudan, Rwanda, Kenya and Somalia itself.
It is presumed that Somalia has enormous untapped oil reserves. It is also strategically located. Therefore, following the logic of Western neocolonialism, it cannot be allowed to go free. An attempt to fragment its territory (not unlike the scenario already implemented in Iraq and Sudan) is well under way. The Kenyan invasion is yet another 'practical' step in that direction.
Time wise, the Kenyan military action preceded so-called London Conference on Somalia hosted by the UK government in February 2012. It also gave some time for the Western analysts to calculate the impact.
Rasna Warah argues in The East African (March 5-11, 2012) that Western countries facing massive unemployment and recession at home 'woken up to the fact that Somalia represents an untapped source of natural resources and a destination for Western goods.'
She assumes that Somali leaders could be persuaded to give rights and concessions to Western companies in exchange for aid. The question also remains who will be those leaders, as the mandate of TFG expires in August 2012.
"The task of managing Somalia's economy", writes Rasna Warah, "appears to rest with the newly-established Joint Financial Management Board, comprising representatives from Britain, France, The European Union, the World Bank and TPG (and later any future government which aims to 'increase transparency and accountability in the collection and accountability in in the collection and efficient use of public revenues, as well as international development aid, and which will help strengthen Somali public financial management institutions.'"
The article mentions The Shock Doctrine by Naomi Klein, and it eventually comes to ask one powerful question: "The presence of the World Bank in the Board also raises questions about the philanthropic intentions of Western donors. Is Somalia going to be revived through loans from the Bank, and if so, will Somalia be in debt before it is on its feet?"
However, Ms Warah stops short of addressing participation of both Ethiopia and Kenya in Western plans to fragment, shackle and exploit Somalia.
Grab Everything And Justify It By War
Not long after the invasion, Kenyan officials performed spectacular 'security' operation. Thousands of families in Nairobi – both Kenyan and Somali – have become victims of what the Kenyan officials decided to call 'war on terror'.  In the days and weeks following attack on Somalia, police and army officials accompanying excavators and bulldozers have torn down slum dwellings as well as multi-story buildings. The official explanation was that these buildings intrude on the flight path of military planes. Nairobi has three major airports. Since these military planes could approach from at least two directions, it allows the government to destroy the dwellings of tens of thousands of people if it chooses to do so.
Visiting one of the demolition sites in Eastleigh in October 2011, I was told by Gilbert, a former resident: "There is no discussion and no negotiation. That's how it is in Kenya. They call it democracy, but in fact the government can come and throw us onto the street. If we protest, they shoot to kill."
The situation was desperate: the German shepherds, some 'special units' fully armed, both military and police. Bulldozers and excavators backed by the army. It did remind me of something but I was not sure of what! I kept photographing the intruders and they kept photographing me. Then it hit me: it was exactly like in Israel during the demolition of Palestinian dwellings: the methods, the dogs, the postures.
Then I talked to the people, or more precisely they talked to me, over each other. Over the roar of the engines and human voices, I managed to recognize words like 'land grab', 'injustice', 'terror'.
"We were paying the mortgage", cried a lady wearing house dressed, pushing her tiny daughter against her chest. "This is all we have, my husband and I and our 3 children. We both were working to pay for this place – for our home. These people came at night and told us to leave, immediately. Children were crying but they couldn't care lesser. They dragged us out. They treated us like animals, like criminals. Our clothes, books, toys, phones, television set – everything is there, destroyed."
It was done to thousands of people. No serious investigation took place.
During my repeated attempts to secure the comments from well-staffed UN Habitat in Nairobi (The United Nations Human Settlements Programme), it was made clear to me that there will be no official communiqué or criticism of Kenya coming from the United Nations.
The Nation reported posted on his blog on November 22, 2011:
…What actually happened was, tenants in a several large Eastleigh apartment buildings woke up to police demanding they vacate the premises immediately. Ten minutes max to grab their stuff before all access was denied, or so I am told. Riot police and various army-looking dudes were crawling all over the place… Then the bulldozers came in and did their thing.

…There are at least a couple hundred hapless Eastleigh residents who are newly homeless tonight… Building owners I talked to swear they had the proper permits. The government swears it's simply cracking down on security risks and taking its land back. Former tenants swear that it's either discrimination against Eastleigh residents, many of whom are Somali, or that it's a simple case of the rich exploiting the poor, i.e. a land grab.
For some heads of the private and public sector, these atrocious land grabs were possibly the payments for the support of invasion. But as always here, there are no proofs, only rumors. No facts, just a logical deduction.
I went back to Eastleigh on March 31, 2012. I talked to a mason, Mr. Kelly Mbinda:
"We were forced out of our houses by police in company of dogs. The army was supervising eviction, claiming that the land is theirs."
I asked a housewife, Agnes Kaleche, what happened to the people from the low middle class who used to live in those buildings? She shrugged her shoulders: "They moved to the neighboring slums; to Biafra and Kinyago."
"Just like that?" I asked.
"Just like that."
* * *
The war goes on. Few embedded reporters are travelling with Kenyan army. There are rumors of atrocities committed by the troops, but as there is no independent reporting allowed in this conflict ('for our safety', of course), no proof could be provided.
All issues mentioned above appear to be inter-connected: the kidnappings, the port, the war and the evictions.
Another related topic is poverty, as well as absolute lack of rights and protection for the average Kenyan citizens.
Elites in Kenya are corrupt and the corruption here is brought to the extreme, almost to madness. Elites are also absolutely indifferent towards the plight of their citizens. If money can be made through mega projects (imaginary or real), or from the war, or from eviction of thousands of defenseless people, or from the refugees, there will be absolutely no hesitation. People matter nothing to the 'rulers' here; lives are dispensable, worthless.
The project of the Port of Lamu may go ahead or not. The war may continue, it may expand or it may eventually wind down. The land confiscated from the poor people in Nairobi may be converted to some private real estate development project.  Dadaab camp may stop growing one day, or it may burst.
But there is one thing that is certain: the greed and brutality of Kenyan (and those others in the region) elites and their foreign masters will not simply disappear. The country and the region will continue to suffer unless the entire system goes through massive overhaul. Soon the people of Kenya realize in what twisted system they were forced to exist, sooner they would be inspired to act. Once there would be understanding of the conditions, there would also be demands for justice. And then even the remnants of the monstrous system of intrigues and plots that has been killing tens of thousands of innocent people could be successfully smashed and placed where they belong – to the virtual museum of neocolonialism.
After that, there would probably be no kidnappings, no wars, and no refugees. The ports, railroads and highways would be finally built – for the people.
All photos by Andre Vltchek.
Comments
comments