Kenyan navy hits Somali rebels ahead of main offensive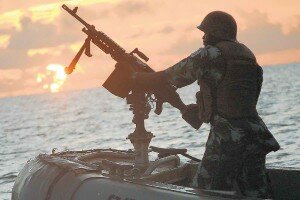 NAIROBI ,Kenya 26 September,2012 (Reuters) – Kenya said its navy hit military targets belonging to al Shabaab militants in the port of Kismayu in south Somalia on Wednesday, ahead of a ground assault on the rebels' last bastion.
Along with forces from Uganda, Burundi and Djibouti, Kenyan troops have been battling the al Qaeda-linked fighters as part of an African Union peace keeping force tasked with wiping out the rebels from their strongholds.
Kenyan military spokesman Cyrus Oguna said the Kenyan navy shelled rebel gun placements on the jetty at Kismayu on Wednesday morning, after fighter jets launched air strikes on a warehouse and armory near the airport on Tuesday.
"It is what we call shaping up operations for the eventual attack on Kismayu. The attack by ground forces is not yet (on). What we hit yesterday are targets we have been mapping for some time," Oguna told Reuters.
Local residents confirmed both the air strikes and the shelling. Oguna said there were no immediate details of any casualties.
"We have information that there were a lot of explosions after the warehouse was hit and the armory as well so these were basically munitions and guns, mainly machine guns and anti aircraft guns," he said.
Kenya sent its troops into Somalia last October after the rebels were blamed for carrying out a series of raids on Kenyan soil targeting its security forces as well as western tourists.
The Kenyans, who are expected to lead the assault on Kismayu, are now within 40-50 km (24-30 miles) of the port city at Jana Cabdallah.
"As and when the time is right, they will begin to march towards Kismayu," Oguna said.
Somalia has made progress in the past year in battling the Islamist militants who had taken control of large swathes of south-central Somalia from 2007.
The Horn of Africa country elected a new president earlier this month, but still faces security challenges, mainly bomb attacks carried out by al Shabaab.
Source: Reuters
Comments
comments