Sex trafficking trial opens for 9 Somalis in Tenn.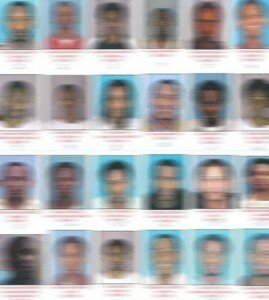 NASHVILLE, Tenn. — A young woman at the center of a trial involving nine defendants accused in a Somali gang child sex trafficking case testified Monday that she was supposed to sexually service gang members for free.
Gang members used fraud and force to lead a 12-year-old 6th grader in suburban Minneapolis into a life of prostitution that involved being repeatedly violated and trafficked to Minnesota and Tennessee, federal prosecutors said in opening statements Monday in Nashville.
Assistant U.S. Attorney Van Vincent told jurors that it was a "sad case," but also a crime.
Defense attorneys said the young woman was a runaway and a "party girl" who willingly had sex with multiple defendants and lied about it so her conservative Somali family could save face.
Seven of the nine defendants are of Somali descent. Another was born in Ethiopia and another was born in the U.S. and is of Laotian descent.
The young woman, who has only been identified as Jane Doe No. 2, said the gang members charged as little as $50 for people outside the gang to use her for sex. The petite witness told jurors that at one point some of them considered selling her as a sex slave to someone for $2,000.
She testified that she is now 17 years old, but her age is in dispute. A federal prosecutor announced Monday the government just discovered her birth certificate was a fake.
The government maintains she was still a minor when she was involved with the gang, although defense attorneys disagree. The woman's age is important because the government has to show she was under 18 to prove child sex trafficking charges.
The young woman said she had consensual sex first with at least one member of the gang, but then they told her that she was going to be used by members to make money. She said they told her not to tell anyone and warned her about what happens to snitches.
"I perceived it like a threat at the time," she told jurors.
Defense attorneys told jurors that the case was one involving a cultural clash between traditional Somali values and young immigrants who had become Americanized. Attorney John Oliva told jurors evidence would show the case was all about sex and that the immigrants were engaging in behavior that would have been considered unthinkable to their parents.
"And they were experimenting and they were rebelling and they were doing things that young people do," Oliva said.
Another defense attorney said the girl willingly climbed out of her window to be with the guys and she had run away from home multiple times.
Thirty people originally were in an indictment unsealed in 2010 that said the defendants, many of them from the Somali immigrant communities in Minneapolis and Nashville, were members or associates of three gangs. Four unidentified victims, some of whom were under age 14, were listed in a superseding indictment.
Other defendants in the case will be tried at a later date.
___
The Republic
Comments
comments