For ill Somalis, healing distrust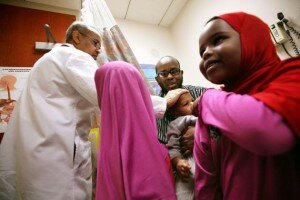 The young Somali patient had received attentive, proper treatment and had "a very good shot" at surviving her case of hepatitis, according to the doctor who saw her last year at the University of Minnesota-Fairview Medical Center.
But when she was offered a new liver, despite the best efforts of a Somali interpreter, her family had too many questions that couldn't be answered.
Less than three weeks after refusing an organ transplant, the 32-year-old woman died.
Nearly 700 Minnesotans have died for want of liver transplants in the last 15 years. But Dr. Mohamed Hassan, the physician who treated the young woman, thinks she needn't have been one of them.
Although her medical records suggest that "noncompliance" was an issue, Hassan said the real problem was a much broader gulf of trust and understanding that has kept many Somali immigrants from donating and receiving organs.
Hassan, a native of Somalia and now a gastroenterologist at the U, keeps the memory of the young woman with him as he works to bridge a troubling gap between Minnesota's large East African community and a medical community that is trying to serve it better.
In the 20 years since Somali refugees began arriving in Minnesota from their war-torn homeland, many have adapted quickly to the U.S. medical system, state health officials say. Having left a part of the world where infectious diseases can still be endemic, many are familiar with measles or polio and seek out vaccinations and other forms of preventive care.
But many others remain wary.
Organ donation may be the most dramatic example. Many Somalis believe that having a donor logo on their driver's license would make them the subjects of medical experimentation. Some believe it keeps doctors from trying their best to save patients so they can harvest their organs. Others cite religious beliefs about respecting and preserving the bodies of the deceased.
Hassan, a member of the Minority Affairs Committee at United Network for Organ Sharing, the nation's main organ transplant organization, analyzed organ donor data from Minnesota driver's license records. He found that among Minnesotans identified as black, the percentage of potential organ donors who chose to do so decreased by more than half after Somalis started arriving.
Dr. Abdirahman Mohamed, chief of staff at Axis Medical Center in Minneapolis, has spoken on radio shows and participated in family consultations to try and confront the misconceptions.
"I tell them there is a verse in the Qur'an that says if you give a life, it's like giving life to all humankind," he said.
Family pressure
Jabarti Warsame juggled his two daughters and infant son on his lap in an examination room at the Liver and Transplant Clinic at the U one morning last week. His wife, a hepatitis B carrier, was there to see Hassan for a routine check-up. He and the children were there for support.
"A family should always stand together," the 30-year-old college student said.
But he said that same logic is keeping some young Somalis from doing something he wishes more of them could do. He wanted to register as an organ and tissue donor. But the suggestion caused such a stir in his family, he decided against it.
To bridge the cultural gap, a series of outreach efforts have been organized in the Somali community, including a recent public meeting at the Brian Coyle Center in the Cedar-Riverside neighborhood of Minneapolis.
Hassan said people have sought his medical opinion to the point of knocking on his door at home and calling his personal cellphone.
Said Mohamed: "Even if a competent American doctor tells them something, they still need to hear it from me."
Familiar words
Diib Yusuf heard many doctors and nurses enter and exit her room during a five-day hospital stay at the U. She heard monitors and carts, explanations and assessments. But no matter how hard she listened, she didn't hear anything that could make sense of her bloody vomit and intense pain.
Then she heard something familiar. Hassan entered her room and spoke with her in her language. He explained her condition and treatment in a way she could understand it.
Now, the mother of four drives 30 minutes each way every month for an appointment with him.
When Hassan first arrived in Minnesota in 2005, he didn't see any Somali patients in clinic. Today he sees one or two every day.
As of 2009, there were only 14 Somali-born doctors in Minnesota — about one to every 2,800 Somali immigrants.
Despite the serious nature of his work, a deep-throated chuckle follows Hassan everywhere he goes. On a Sunday afternoon in late March, it followed him to the Cedar-Riverside area, home to one of the largest communities of Somali immigrants in North America. There, Mayo Clinic and pharmaceutical company Gilead Sciences brought together Somali and non-Somali doctors and researchers to educate community members about hepatitis and liver disease.
Community members flooded the small conference room with questions and concerns in both English and Somali.
That day, Hassan played many roles — a speaker, an interpreter, an educator. And then, when a man with a bright, henna-dyed beard and a cane approached him, he became a counselor, too. He listened as the elder carefully explained his condition and concerns in Somali. Then, just before being called to return to the front of the room to speak, Hassan tore a corner from a program, jotted down the man's name and a phone number, and quietly slipped it into his pocket.
____
Star Tribune
Comments
comments