Eden Prairie seeks added resources for third-largest Somali community in metro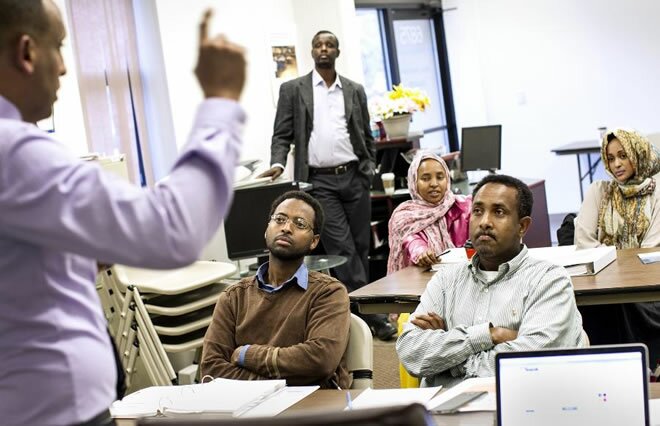 As an outer-ring, affluent suburb, Eden Prairie may seem an unlikely city to draw a growing refugee community. But 17 years ago, Somali-Americans like Asad Aliweyd moved there for its top-ranked schools, safe community and job opportunities.

Now, nearly two decades later, Eden Prairie has the third-largest Somali population in the Twin Cities, next to Minneapolis and St. Paul, according to the city, with an estimated 3,500 to 5,000 residents.

The Somali language is second only to English in Eden Prairie schools. The police department has its first Somali police reserve officer. And the city has Somali businesses, including a halal grocery store, and two mosques.

"Eden Prairie is more welcoming to Somalis than anywhere else," said Aliweyd, a former math teacher who now runs a center providing classes for Somali youth and adults.

But he and other Somali leaders are pushing for more support from the city and school district, and for more affordable housing as the city plans for development along the future Southwest Corridor light-rail line. There, Aliweyd envisions a multicultural market like Minneapolis' Midtown Global Market and more affordable apartments.

"In Eden Prairie, we are in an island," he said of Somali resources. "If we weren't here, no one would be doing this."

City and school leaders say they are providing free resources to residents for everything from finding housing to filling out job applications, hosting a popular monthly program for Somali mothers and having Somali-speaking coordinators to help families.

"We're trying to help them out the best we can with limited budgets," City Council Member Brad Aho said.

Like other Twin Cities suburbs, Eden Prairie has grown increasingly diverse in recent years. Yet the affluent suburb may be known more for housing the Vikings practice facility and one of the few gated country-club communities in the metro than for its immigrant communities.

The city, on the edge of Hennepin County 15 miles southwest of downtown Minneapolis, had a 96 percent white population nearly 25 years ago, according to census data. Now, that's dropped to about 80 percent. Among immigrant groups moving to the 62,000-resident suburb have been Russians, Indians and Somalis.

Wanted: Affordable housing

But it's been challenging for immigrants seeking affordable housing in a city with only 10 percent affordable housing and a median household income of $93,000.

"There is really a housing equality problem in Eden Prairie," said Mohamed Arab, who says he was the first Somali resident in Eden Prairie to buy a house years ago; he now owns a day care in Shakopee.

Since 2004, no affordable rental units have been built in Eden Prairie, according to the Met Council, which recommends that Eden Prairie add 1,844 new affordable units from 2010 to 2020. City leaders say they hope to repurpose existing buildings into affordable units through subsidies, since the city is mostly developed. The city also has an affordable homeownership program to help low-income residents.

"We've done the best we can with the existing housing stock," Aho said. "I think we have a mix all the way from $3 million homes to $100,000 units."

Other cities operate their own low-income apartments, but Eden Prairie hasn't gotten into that business.

"They'd rather run liquor stores," said Ahmed Jama, a longtime resident and business owner, adding that he wants the city and police to employ more Somali residents. "The question is what is the city doing for diversity? And that [answer] is zero."

Growing community

From an office in the lower level of the Eden Prairie Center mall, Mohamed Duale sees a different picture. As the city's immigrant liaison, he says he helps 20 to 30 people each day — mostly fellow Somalis — with everything from finding housing to connecting them with social services and jobs.

"When I moved here, there was nothing," he said of the Somali community and resources in 2003. Now, he said, "compared to Minneapolis, we have nothing. But compared to other suburbs, we have a lot of resources."

The school district, which also has a Somali communications coordinator, has free classes for Somali- and Spanish-speaking parents, teaching them everything from what a GPA is to how to help their children plan for college. School libraries have Somali storybooks. And the district's website is translated into 11 languages — from Arabic to Portuguese — and recently added Somali.

"The city and school district have been doing things for the community for at least a decade," said Nanette Missaghi, the district's equity and integration coordinator. "We are trying to be culturally relevant not just for Somali students, but all of the students."

And the need is growing.

According to 2013-14 data, 610 students identified Somali as their home language, far greater than Spanish or other foreign languages, and up from 489 students in 2010.

'The need is huge'

To help Somali students, Aliweyd started the New American Academy in 2008 to provide after-school tutoring. In 2011, he opened an office in a business district on the border of Edina and Eden Prairie off Hwy. 169. It's grown into a major community gathering spot and resource for Somali residents.

The academy just wrapped up a health care pilot program with Somali adults on chronic illnesses like obesity. After-school tutoring has shifted to youth leadership programs for Minneapolis, Bloomington and Eden Prairie students. And there's a weekly evening entrepreneurship class for adults.

"I don't know where I'd start," Hodan Duale said as she pored over a binder in the class, hoping to start her own after-school activities for kids. "This is an opportunity to give us hope and dream."

Aliweyd says city staff have been collaborating more with community leaders like him. He's also gotten help from Allina Health, which provided the health care pilot program. The Corridors of Opportunity awarded him a grant to engage the Somali community in planning for businesses, jobs and housing along the light rail. And the Neighborhood Development Center in St. Paul provided the business curriculum.

"We want to be part of the community, but we have obstacles and issues," he said. "The need is huge.
Source: Star Tribune
Comments
comments