Exclusive: U.S. discloses secret Somalia military presence, up to 120 troops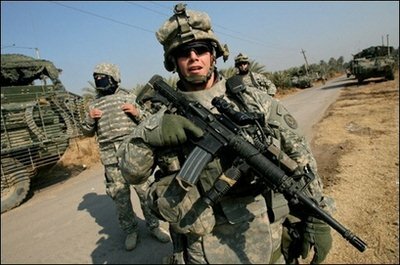 WASHINGTON (Reuters) – U.S. military advisors have secretly operated in Somalia since around 2007 and Washington plans to deepen its security assistance to help the country fend off threats by Islamist militant group al Shabaab, U.S. officials said.
The comments are the first detailed public acknowledgement of a U.S. military presence in Somalia dating back since the U.S. administration of George W. Bush and add to other signs of a deepening U.S. commitment to Somalia's government, which the Obama administration recognized last year.
The deployments, consisting of up to 120 troops on the ground, go beyond the Pentagon's January announcement that it had sent a handful of advisors in October. That was seen at the time as the first assignment of U.S. troops to Somalia since 1993 when two U.S. helicopters were shot down and 18 American troops killed in the "Black Hawk Down" disaster.
The plans to further expand U.S. military assistance coincide with increasing efforts by the Somali government and African Union peacekeepers to counter a bloody seven-year insurgent campaign by the al Qaeda-linked al Shabaab to impose strict Islamic law inside Somalia.
Those U.S. plans include greater military engagement and new funds for training and assistance for the Somali National Army (SNA), after years of working with the African Union Mission in Somalia, or AMISOM, which has about 22,000 troops in the country from Uganda, Kenya, Sierra Leone, Burundi, Djibouti and Ethiopia.
"What you'll see with this upcoming fiscal year is the beginning of engagement with the SNA proper," said a U.S. defense official, who declined to be identified. The next fiscal year starts in October.
An Obama administration official told Reuters there were currently up to 120 U.S. military personnel on the ground throughout Somalia and described them as trainers and advisors.
"They're not involved in combat," the official told Reuters, speaking on condition of anonymity, adding that until last year, U.S. military advisors had been working with AMISOM troop contributors, as opposed to Somali forces.
President Barack Obama last year determined that Somalia could receive U.S. military assistance.
Another official said American forces over the years had provided advice and assistance in areas related to mission planning, small unit tactics, medical care, human rights and communications. The official said U.S. forces in Somalia have also facilitated coordination, planning and communication between AMISOM troop contributors and Somali security forces.
SPECIAL OPS
The comments expand upon a little noticed section of a speech given early in June by Wendy Sherman, under secretary of state for political affairs. She publicly acknowledged that a "small contingent of U.S. military personnel" including special operations forces had been present in parts of Somalia for several years.
Still, it was not immediately clear from her remarks the extent to which U.S. personnel had been operating.
U.S. special operations forces have staged high-profile raids in the past in Somalia, including an aborted attempt in October to capture an al Shabaab operative in the militant group's stronghold of Barawe. U.S. officials have acknowledged Washington's support for AMISOM and Somalia's struggle against al Shabaab.
U.S. Central Intelligence Agency officials have been known to operate in the country.
U.S. troop numbers on the ground in Somalia vary over time, the officials told Reuters. Deployments are "staggered" and "short-term," one official said. But the Obama administration official added that there was overlap in the deployments to allow for a persistent presence on the ground.
Asked about where U.S. forces were deployed, the administration official said they were "in locations throughout Somalia" but declined to elaborate further for security reasons.
The official declined to say precisely when the first U.S. military forces went back into Somalia, saying: "It was around 2007″ and in support of AMISOM.
Asked about why Sherman chose to disclose the information, a State Department official told Reuters: "In the past, our assessment of the security situation in Somalia informed our decision to err on the side of force protection concerns and not divulge their presence."
That's changed, the official said. "We do not currently believe that acknowledging the U.S. presence will increase the already high threat to our personnel and citizens operating in Somalia."
The announcement also reflects a deepening of the U.S.-Somali relationship and comes as the United States prepares to name its first ambassador for Somalia since 1993, who would initially be based out of the country due to security concerns.
"Absolutely there's been a shift" in the relationship, an Obama administration official said.
Military trainers from the European Union are already on the ground in Somalia training soldiers after shifting their operations at the end of last year to Mogadishu from Uganda, where troops were previously drilled.
(Additional reporting by Edmund Blair in Nairobi. Editing by Jason Szep and Peter Henderson)
Reuters
Comments
comments