Invitation to the Journey for Justice event (CALGARY, CANADA)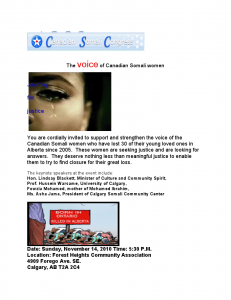 Please find attached to this email an invitation to the Journey for Justice event in Calgary, Alberta.  You are invited to support and strengthen the voice of the Canadian Somali women who have lost 30 of their young loved ones in Alberta since 2005.  These women are seeking justice and are looking for answers.  They deserve nothing less than meaningful justice to enable them to try to find closure for their great loss.
The keynote speakers at the event include:
Hon. Lindsay Blackett, Minister of Culture and Community Spirit,
Prof. Hussein Warsame, University of Calgary,
Fowzia Mohamed, mother of Mohamed Ibrahim,
Ms. Asha Jama, President of Calgary Somali Community Center
Date: Sunday, November 14, 2010 Time: 5:30 P.M.
Location: Forest Heights Community Association
4909 Forego Ave. SE.
Calgary, AB T2A 2C4
Tel: 780-940-3456
————————————————————————————————————————-
For further details contact:
Alberta Somali Community Center (ASCC)
#202, 10212 – 127 Avenue
Edmonton, Alberta T5E 0B8
T 780 940 3456
F 780 472 6697
Or
Canadian Somali Congress
Tel: 613-979-3422
Email: canadiansomalicongress@gmail.com
Website: www.canadiansomalicongress.com
Comments
comments