Mother of teacher gunned down in Lawrence Heights speaks out from Ethiopia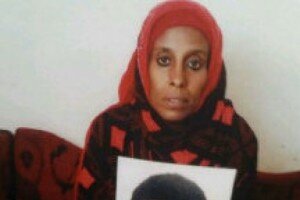 Last Ramadan, Abshir Hassan fasted with his mother, a Somali refugee, in Addis Ababa, Ethiopia.
Last week, the well-loved Toronto supply teacher was gunned down outside his Lawrence Heights apartment simply for being, police believe, in the wrong place at the wrong time.
His mother now looks at the bed where he slept on his visit, mourning her son from more than 7,000 miles away.
Faduma Barre Ali, reached by phone in Addis Ababa with the help of a Somali translator, said she has been distraught since learning of her son's death July 8.
"As soon as I close my eyes I see him. I'm staring at the place where he was with me last Ramadan, and that's my life now," she told the Star.
Ali, 49, was at a local market when she learned her son was dead through a call from Abshir's brother, Saabir, in Somalia.
"I was taken from the market to the house and I almost crashed. I couldn't believe it for three days … Friday I got my senses. I realized where I was, and that's when he was buried, that Friday. That's when I recognized what I was doing, where I was. That he is gone," she recalled.
Ali said that she did not eat or sleep in the days after learning of her son's death, because she is devastated, and because she does not have money for food. Abshir sent her about $250 a month for food and rent for the small room that she shares with her two teenage children, she said.
"He paid for their education at the school, because he always [said] to them, 'you have to finish, you have to go school, you have to educate yourself.'"
Ali says she fled her home in Mogadishu at the urging of Abshir, who thought she would be safer in Ethiopia.
"I left Somalia because of the violence and the drought. There was nothing to eat," she said. But as a refugee she doesn't have residency documents and has found it difficult to get work.
"He was my lifeline," she said of her son. "He absolutely used to maintain me here. Now that he's gone I don't know what to do anymore.
"My life is upside down."
Ali, who spoke on the phone to Abshir nearly every day, would like to come to Canada to see her son's grave.
"I would love to share with the people of Toronto and Canada that Abshir was a good, kind child of mine."
Ali's other son, Saabir Hassan, said from his home in Mogadishu, Somalia his brother was sending their mother money in Addis Ababa, something he can't do because he doesn't have a job.
"He was the greatest star for all of us," he said of Abshir.
"Last year at this time he was with his mother in Ethiopia, he fasted with her for the holy month of Ramadan. They were really close.
"Just hours before he was shot he was on the phone with her."
Abshir's father, Ali's ex-husband Ahmed Hassan, said his family has been supporting Ali with about $100 a month and that will continue.
"I need time to grieve and let it be that for now," he said.
TORONTO STAR
With files from Jayme Poisson
Comments
comments