KDF will not move out of Somalia soon, says Defense Minister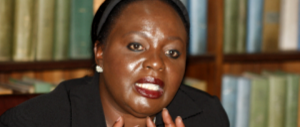 THE Kenya Defence Force will only move out of Somalia when the country's government can effectively administer all liberated areas.
Cabinet Secretary for Defence Rachel Omamo yesterday said that although KDF, who are fighting Al Shabaab in Somalia under the African Mission in Somalia, is willing to move out of Kismayu, it will only do so when Somalia can conduct its affairs peacefully.
"We will move out in a structured and responsible manner," Omamo said.
She said during a meeting held in Kampala recently it was agreed that a multinational force should take control of Kismayu port .
Omamo rubbished the UN Monitoring Group on Somalia report that said KDF is engaged in the export of charcoal from Kismayu.
" The KDF is an extremely disciplined force. The soldiers did not go to sell charcoal. We went to Somalia to deal with terrorism and act upon the security threat posed to our country by al Shabaab," Omamo said.
Meanwhile, the Vice Chief of Defence Lieutenant General Samson Mwathethe said the force is worried about the fate of two soldiers who went missing in Somalia.
Mwathethe said they empathise with the families of the soldiers.
He said efforts are being made to find the two and secure their release as soon as possible.
The two soldiers who were on a routine supply mission are believed to have strayed into enemy territory.
__
The Star
Comments
comments