Obama woos Africa with billions of dollars in deals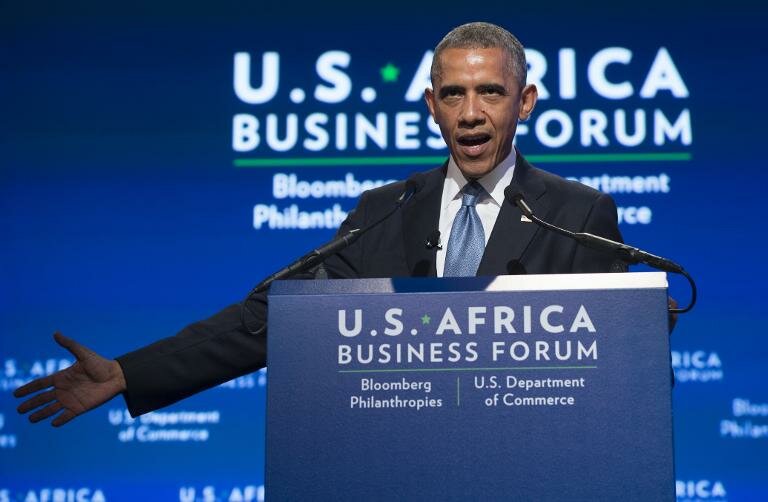 President Barack Obama announced billions of dollars in investment for Africa on Tuesday, as the United States challenges China and Europe's leading roles in the continent's economic emergence.
But America's first black president urged African leaders to not let corruption or rebellions sidetrack their gains, as he pledged a new partnership at a landmark summit with African leaders
"As president, I made it clear that the United States is determined to be a partner in Africa's success, a good partner, an equal partner and a partner for the long term," he declared.
"We don't look to Africa simply for its natural resources. We recognize Africa for its greatest resource, which is its people and its talent and their potential," he told 45 heads of state and government.
On the business-focused second day of the three-day summit, which brought together scores of US and African business tycoons, Obama announced 33 billion in new investments and financing from the private sector and government agencies.
This includes a new 12 billion for Africa's crucial power sector – including contributions from Sweden and the World Bank – an industry Washington has particularly focused on for US participation.
On top of that was another 14 billion in investment deals, and 7 billion in loans to support US exports to Africa, which have sagged while imports, mainly oil, have surged in recent years.
- Need for good governance -
Obama pitched American business as a potent rival to China and Europe in the race to benefit from Africa's economic emergence.
"We don't simply want to extract minerals from the ground for our growth," he said in a dig at China, which over the past decade has become Africa's leading partner, with more than double the trade that the US has with the continent.
"The bottom line is that the United States is making a major long-term investment in African progress," Obama said.
"That will support development across Africa and jobs in the United States."
But he stressed that African leaders had to do their part to protect their gains.
"Capital is one thing. Development programs and projects are one thing. But rule of law, regulatory reform, good governance: those things matter even more," he said.
"Because people should be able to start a business, and ship their goods without having to pay a bribe, or hire somebody's cousin."
"And we are going to have to talk about security and peace, because the future belongs to those who build, not those who destroy."
The summit also sought to wake up US businesses to the fact of Africa's rapid growth and huge middle class, consumers US officials want to target for American goods, from cars to processed foods.
Yet African leaders and business chiefs complained that American businessmen are bound to outdated stereotypes of a backwards continent, and see too much risk in investing there.
US firms still think "about Africa a decade ago… whereas things have really changed dramatically," said Nigerian commodities and telecommunications tycoon Aliko Dangote, Africa's richest man with an estimated 20 billion fortune.
"Africa now has been growing at about 5.5 percent on average in the last decade," he insisted.
"There is a lot of perceived risk. People only talk about risk. But the majority of those who perceive risk don't know the story. They have not really been there."
The International Monetary Fund expects the African economy as a whole to grow by 5.4 percent this year and 5.8 percent the next, outstripping the global economy.
But, despite the new optimism in many parts of the continent, industry has failed to create jobs fast enough to employ a growing young population.
Civil wars and disease have also undermined governance in many areas, endangering regional stability.
Secretary of State John Kerry pointed to a "staggering youth bulge" in the African population that needs to see a future in economic growth and development, 700 million people under the age of 30.
"Most of them… are desperate for opportunity," he told the visiting leaders.
He pointed to the challenge that radical insurgencies like Nigeria's Boko Haram and Somalia's Shebab pose, trying to seduce youths and set back development, he said.
"We need a unified vision to present these young people with a viable alternative," he said.
Comments
comments