Seven held over smuggling of a banned stimulant from England to U.S. to fund terror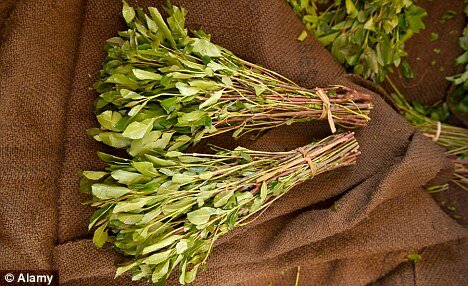 Seven people were arrested yesterday on suspicion of raising money for terrorism by smuggling a banned stimulant drug from England to the US.
The suspects were held during a series of co-ordinated raids on homes in four cities and towns across England and Wales.
They have been linked to a multi-million-pound international conspiracy to import a drug called khat to the US and Canada, where it is illegal.
Police suspect the money was channelled to Al Shabaab, an Al Qaeda-inspired group whose members are fighting in Somalia and Yemen.
Sources said gang members used human couriers, including children, and parcel services to transport khat, a flowering shrub that produces a mild high when chewed and is popular in parts of Africa.
Fresh leaves contain the drug cathinone, an addictive stimulant with effects similar to but less intense than that of methamphetamine or cocaine.
The side effects can include disorientation, hallucination and hyperactivity, and campaigners believe khat may be linked to mental instability and make users more vulnerable to being influenced by fundamentalists who peddle it.
The Government is being urged to join almost every other major European country and ban its trade and consumption.
Mohammed Elmi, who heads Somali Diaspora UK, said he was 'not surprised' by the arrests.
He said: 'There is a strong link between khat and terrorism. There is a possibility extremists are giving young people khat and they are becoming mentally ill and vulnerable.
'Then they target them. We are worried that addicts could be easily persuaded into doing extreme acts, even bombing London.
'There is evidence that those selling khat are laundering money for Al Shabaab. It is a trade worth millions.'
The seven suspects, who include one woman, all have links to Somalia.
They were held during co-ordinated raids on 12 properties in London, Coventry, Cardiff and Worthing, West Sussex, yesterday.
Officers from Scotland Yard's counter-terrorism command arrested the suspects, aged between 30 and 49, on suspicion of terrorist fundraising.
They were acting on information passed to them from an undercover investigation in the US.
Several agencies, including the FBI, spent months monitoring a gang responsible for importing tons of khat from England and Holland.
They have passed on records of bugged conversations allegedly linking several of those arrested yesterday to the conspiracy, while British detectives have been passed first-hand evidence from members of the gang who have become informants.
The gang used more than a dozen drug 'mules' paid around £500 a time to deliver suitcases stuffed with khat to the US. Express courier companies were also used, with the drug sometimes encased in tinfoil or labelled as baby clothes to evade detection.
Proceeds of the drugs sales were then transmitted back to Britain, sometimes via informal Islamic banking systems, as well as directly to Somalia and Uganda.
__
Daily Mail
Comments
comments