Somali Man sentenced to 5+ years for attempting to smuggle €40,000 Cocaine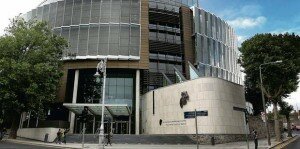 A Somalian refugee who was attempting to smuggle more than €40,000 of cocaine into England via Dublin has been given a five and a half year sentence.
Ibrahim Mohamed (34), who had been granted asylum in the UK in 2001, said he was going to sell the drugs to people on the streets. He told gardai he had swallowed the 50 pellets containing the cocaine in Brazil of his own free will.
Mohamed apologised at Dublin Circuit Criminal Court to Judge Mary Ellen Ring for his actions and said he had not told gardai at the time he had been forced to carry the drugs because he was scared.
Mohamed, of Hinckley Road, Leicester, England, pleaded guilty to possession of the drugs for sale or supply at Dublin Airport on October 25, 2013.
Judge Ring imposed a five and a half year sentence and suspended the final three years. She noted he was a non national and that there was nothing to suggest any further involvement in the drugs trade.
Garda Mark Reay told Diarmuid Collins BL, prosecuting, that Mohamed had travelled from San Paulo, Brazil, via Paris when he was stopped at Dublin Airport by a customs officer for a luggage search. A urine sample was also taken which detected cocaine.
Mohamed passed 12 pellets containing cocaine before being taken to hospital where he passed a further 38 with a total weight of 600 grams and a street value of €42,000.
He told gardai he had travelled to Brazil on holidays and had a contact in Africa who had put him in contact with a man from whom he bought the drugs. He had intended to get a ferry back to the UK and sell the drugs.
Mohamed fully cooperated with gardai and told them during interview he had not been forced to carry the drugs. He has four previous convictions and has been in custody since his arrest.
Mohamed told Judge Ring that he grew up in Somalia until the age of eight when his father was killed during tribal fighting. He lived in a number of countries before coming to the UK as an asylum seeker in 1998. He gained the status of Somalian refugee in 2001.
He worked in a food factory and has three children in the UK with a former partner.
Patrick McEntee SC, defending, that his client had done something stupid but had pleaded at the first opportunity and had been a model prisoner.
He asked the court to take into account his client's "appalling background." He said he was not aware if this conviction would have consequences for his status in the UK but said Mohamed would like to serve his sentence in England if possible.
Independent.ie
Comments
comments