Somali women are 'buck-toothed herdswomen' Wandsworth school places decision maker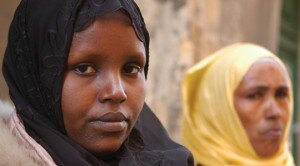 A volunteer for Wandsworth's school admissions panel has been dismissed after publishing an offensive blog describing Somali women as buck-toothed herdswomen from a Saharan oasis.
Retired journalist Hugh Thompson, from Putney, will no longer sit on the borough's Independent Appeal Panel making decisions about children who have been refused school places.
Following a panel meeting, on Wednesday, July 2, Mr Thompson, in his late 60s, published a post about a group of Somalis he referred to as "new Britons from the horn of Africa".
He named the Somali boy and said: "His single mum turned up followed by her older mama complete with beard, another who spoke no English.
"In their shapeless cloaks and headgear, their buck-teeth and their fat little faces looking like proverbial herdswomen from some Saharan oasis. In this case called Tooting.
"Basically her son was a sensitive lad, slow learner, asthmatic and very shy. It was best he went to a school near her cousin and where other Somalis she knew fetched and carried their children. There was no father anywhere in the story, how do Somalis have children?"
Mr Thompson, who teaches English as a foreign language to immigrants in Merton, discussed the family's application and went on: "Is there a point where we should show some tolerance of immigrant groups who rely totally on networks to survive.
"But they had made no effort either in terms of language, dress or custom to move towards the host culture."
Mr Thompson described the boy's mother putting her hands into the prayer position and tilting her head. He added: "Was this some traditional sign that she was a defenceless woman who needed the help and protection of those more powerful. If it was, it was rejected.
"Later one of the panel told of schools in London where Somalis groups split into their clans and fight it out in classroom and playground."
A spokesman for Wandsworth Council said it was vital appeals were heard fairly and impartially and added: "We are aware of this blog post and as a result of the totally unacceptable, inappropriate and offensive language it contained, as well as the fact that it had breached the confidentiality of the panel proceedings, we have decided that this individual can no longer sit on the independent appeals panel."
Opposition councillor and a governor of Smallwood School James Daley, said Tooting, where the family is from, was proud to welcome people from different faiths and cultures.
He added: "There is simply no tolerance for these kind of narrow-minded, offensive viewpoints – but it is of even greater concern that they come from an individual who held the power to determine the outcome of school place appeals. These are decisions which have an enormous impact on families – and are not to be taken lightly."
After being contacted by a council solicitor, Mr Thompson removed the material and posted another entry admitting he had broken "professional and obvious rules".
The long-term member of the Putney Society said: "I have been a fool and that's the end of it. I knew there were certain rules and I broke them.
"I didn't think it was very important as not many people read my blog."
When asked if he regretted it, Mr Thompson said: "Yes and no. My blog is a diary of my life and things I think about – I write about them. Sometimes there are things I shouldn't write about.
"I suppose on balance I probably do regret it yes. Only just."
He denied the posts were racist but said the council was totally reasonable and totally just in dismissing him.
THIS IS LONDON
Comments
comments