Somali president's Northrop speech draws protest (VIDEO)
More than 100 people protested Somali president Hassan Sheikh Mohamud's speech at the University of Minnesota on Saturday night, alleging his administration supports terrorists and demanding he step down.
As a crowd filed into Northrop Auditorium to hear Mohamud discuss relations between Minnesota and Somalia, others gathered on the David Lilly Plaza and charged him with supporting Al-Shabaab, a militant Islamic group based in the country.
"We're showing that he has to step down," said Nuradin Ali, a translator from St. Louis Park.
Mohamud has faced assassination attempts before, said University police Lt. Troy Buhta. But authorities knew about the protest a week in advance and were doing their best to combat any threats, he said.
Although protestors weren't afraid to equate Mohamud with terrorism, they kept their event peaceful. Many bobbed to music and greeted friends while they held signs charging the president with genocide and calling him a warlord.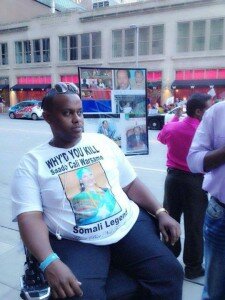 Many in the crowd said Mohamud's administration was behind the killing of several Somali lawmakers in Mogadishu, the nation's capital. They accused him of fostering divisions between the country's ethnic groups.
"The country is sliding back into anarchy, sliding back into insecurity," said Hamid Masheye.
Minneapolis has the largest Somali population in the U.S. and Mohamud faced protests when he visited the city's convention center last year.
Abdi Warsame, the city's first Somali councilmember, took office this year. Somali-born Mohamud Noor is challenging state Rep. Phyllis Kahn, DFL-Minneapolis, for the seat representing the West Bank, the University and other east Minneapolis neighborhoods.
Source: MNDaily
Comments
comments