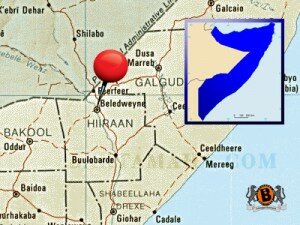 Sept. 30 (Bloomberg) — Somalia's government soldiers who seized control of the central provincial capital of Baladweyne from Islamist rebels on July 27, withdrew from the town late yesterday as the insurgents began regrouping, the army and residents said.   "The troops from Hisb-ul-Islam are armed with machine guns and rocket-propelled grenades and are streaming into the outskirts of the town," Roble Osman Ahmed, an elder in Baladweyne, said by phone today. "I have seen many battle wagons crossing to and fro at Halwadag on the outskirts of the town."
Hisb-ul-Islam and the al-Shabaab Islamist militants have been waging a battle to recapture the capital, Mogadishu, and other towns from forces loyal to Somali President Sheikh Sharif Sheikh Ahmed and are seeking his ouster. Control of Baladweyne is strategic militarily because of its proximity to the Ethiopian border and its links with the middle Shabelle region and the central regions.
A senior army official Colonel Mohamoud Isak Abdi confirmed the withdrawal of the soldiers from the town. He declined to provide further details, saying that the army doesn't discuss military tactics with the media.
"The government soldiers have totally vacated their military bases inside Baladweyne, such as the police station and administration headquarters," Salim Abdullahi Ibrahim, a resident of the town, said in a phone interview today. "They headed to Eelgal, 15 kilometers (10 miles) north of Baladweyne, where they have military bases."
_____
Source: Bloomberg