Family tell of shock over missing Bristol girl believed to be heading for Syria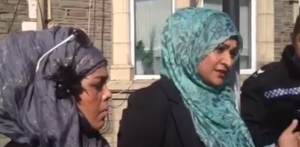 Bristol — The family and friends of a 15-year-old schoolgirl from Bristol who is suspected of flying from Britain to join Islamist fighters in Syria have spoken of their shock and confusion.
Police revealed on Monday night that the girl, Yusra Hussien, is believed to be in Turkey having left the UK last week with a 17-year-old London girl and may be trying to reach Syria.
Schoolfriends said she was an A-grade student who had a very bright future and wanted to be a dentist. She vanished from her home last Wednesday after failing to meet her father after school.
Devastated relatives of the schoolgirl, who is of Somali origin, gathered at the family's terraced home in the Easton area of Bristol. Her mother confirmed her daughter was missing and another woman, who said she was an aunt, added: "We are all really confused."
Hussien's father, who is believed to be a youth worker, refused to comment.
Friends at the girl's inner-city school paid tribute to her. One said: "I have no idea what made her leave. She is a really nice girl." Another added: "She was very smart. She was always getting As and A*s – that is the kind of student she was."
A friend who had a lesson with the teenager the day before she went missing said she seemed "completely normal". "I was sat next to her and she seemed fine," she said. "She didn't have any new friends that we knew about, and she was a completely normal girl."
Speaking on behalf of the family outside their mid-terrace house, friend and journalist Anira Khokhar described the girl as "an intelligent, beautiful young lady who is being missed by her family", adding: "That is all that matters at the present moment."
She said: "The family have lost a daughter. Their daughter is missing. The family are a small, tight Somali family. They are very reserved. They have a lot of the Somali community coming to support them in all this.
"It's all speculation at the moment. All the words flying around the media – jihadist, radicalisation, extremism. There's no proof at present. It's an ongoing investigation. We need to all ensure they are a family whose daughter is somewhere they are unaware of and she is in danger.
"The family is very distraught. They have got little kids in there. We have to ensure as a British community we all come together and unite and protect those young kids. The last thing they want to see about their sister is words such as 'jihadist bride' or radicalisation or extremism.
"The family needs space just like any other missing person. It doesn't matter what religion, race you are, there's a girl that's missing. The Somali community is a very united community, a very strong community. Let them unite in this time."
Bristol city councillor Hibaq Jama said: "They [the family] are absolutely devastated. They are distraught. I think it is really important to understand that at the heart of it is a grieving mother and a grieving father who as yet have no idea where their 15-year-old daughter is. The family are urging their daughter to return home."
The family released a statement through the councillor reading: "Please come back. We miss you very much. You're not in any trouble. We just want you to be safe and come home as soon as possible."
Jama added: "What we know about her is that she is an incredibly bright, incredibly articulate, popular, gifted young lady who was admired by, and very much looked up to by, her peers. She was doing very well in school. She was very aspirational, wanting to go on and become a dentist.
"So it has come as a complete shock to the parents – they are devastated – but it has also come as a shock to the community, who are now understandably asking questions about the fact that if she, as a 15-year-old girl from this community, very articulate, very well-accomplished, has disappeared then there are understandably concerns for others as well."
Avon and Somerset's assistant chief constable, Louisa Rolfe, said there were indications Hussien may have been radicalised. She said: "We can confirm that a 15-year-old student from Bristol has travelled to Turkey and we understand she may be attempting to make her way to Syria.
"Since she was reported missing by her parents we've carried out extensive work to trace her footsteps from the time she left home to her arrival in Istanbul, Turkey. We're giving every support we can to her family. We want to find out where she is and encourage her to return safely.
"There are indications she may have been radicalised but at the moment our priority is to find her before she crosses the border to Syria and make sure she is safe. We must all be vigilant and ready to spot the signs of radicalisation."
Her parents reported her missing last Wednesday and Avon and Somerset police said the search involved detectives from the Metropolitan force and its network of international liaison officers.
In Bristol, police will be investigating how any radicalisation took place and trying to find anyone else who might be tempted to head for Syria.
Rolfe added: "Often, young Muslims who go to Syria can be naive and don't recognise that they are being sucked into joining extremist groups.
"This is not about criminalising these young people. It's about preventing tragedies."
An estimated 500 to 600 Britons are believed to have travelled to Syria, and 250 have since returned. Among them are the brothers Nasser and Aseel Muthana, 20 and 17, and their friend Reyaad Khan, also 20, all from Cardiff, just 40 miles down the M4 from Bristol. Nasser and Khan appeared in a terrorist recruitment video.
Source: Guradian
Comments
comments