Blind Somali Jihadist fighting alongside ISIS militants in Syria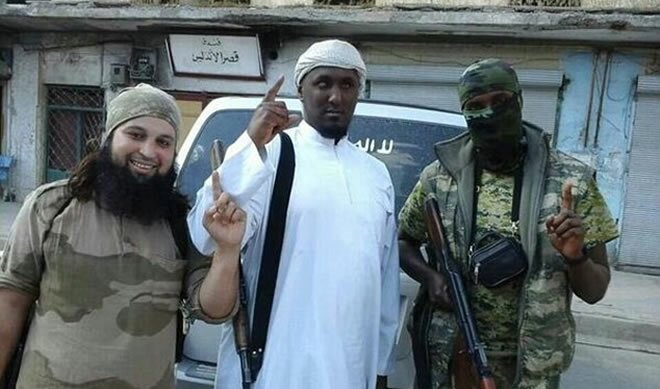 Daily Mail - A blind jihadist pictured fighting alongside ISIS militants in Syria has reportedly urged others to join the Islamist militants, saying having a disability is no excuse.
Taymullah al-Somali, a Dutch national who is believed to have travelled to the Middle East earlier this year, has been photographed numerous times alongside ISIS militants and is believed to be based in the capital of the self-declared caliphate, Raqqa.
The Somalia-born militant has been quoted on known Islamist social media accounts urging Muslims to join ISIS, reportedly saying: 'Being blind didn't stop me from coming to #Syria, what's your excuse?'
Numerous images of al-Somali have recently emerged, showing him posing alongside an international group of jihadists – including at least two from Belgium, one of whom is reportedly named Hicham Chaib.
One image shows him posing with an anti-aircraft weapon while dressed in combat fatigues, while another chilling photograph shows him among a group of gun-toting militants holding a young child.
Another shot shows al-Somali outside an apparent sharia law court in the city of Raqqa, adorned with the black jihadist flags that have become symbolic of ISIS' reign of terror in the Middle East.
Al-Somali, who is often pictured smiling, has become something of a poster boy for jihadists in the Middle East, who use his disability as a rallying cry that nobody is beyond joining ISIS' ranks.
Although al-Somali's true identity cannot be be confirmed, at least one Islamist website named him as Bashir Abu Mu'adh, who arrived in the Netherlands as a child in the early 1990s.
Earlier today Turkey's top Islamic cleric and the successor to the last Muslim caliph's most senior imam said ISIS' declaration of a caliphate 'has no legitimacy whatsoever'.
Mehmet Gormez, the head of the Religious Affairs Directorate – the highest religious authority in Turkey, added that ISIS' death threats against Christians were a threat against all civilisation.
'Since the caliphate was abolished … there have been movements that think they can pull together the Muslim world by re-establishing a caliphate, but they have nothing to do with reality, whether from a political or legal perspective,' he said.
'The statement made against Christians is truly awful. Islamic scholars need to focus on this [because] an inability to peacefully sustain other faiths and cultures heralds the collapse of a civilisation,' he added,
Since ISIS' advance across northern Iraq in June, Christians have fled the city of Mosul, where the militants are based, after they were given the choice to convert, pay a religious tax or be executed.
Mosul's Christian community is one of the world's oldest in the world, tracing its roots back two thousand years.
Source: Mail Online
Comments
comments