Wounded officers in Somali bombing arrive in Turkey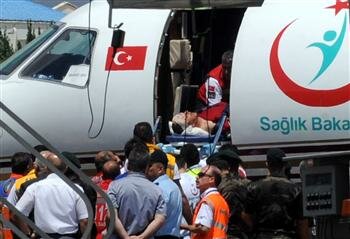 Three Turkish security officers who were wounded in a bombing attack on Turkish mission in Somaliaarrived today in Ankara by a medically equipped airplane. The plane also carried the body of an officer who was killed in the attack.
A car loaded with explosives rammed into the gates of an office housing Turkish embassy staff in the Somali capital on July 27, killing a Turkish special forces agent. Turkish Foreign Ministry Spokesman Levent Gümrükçü told Anadolu Agency that two of the three bombers were killed in the attack, while another three Turkish security personnel were injured. The Foreign Ministry said in a later statement that one of the injured agents was in critical condition. The Foreign Ministry statement condemned the attack in the "strongest terms possible" as al-Qaeda-linked al-Shabaab militants claimed responsibility for the bombing.
Deputy Prime Minister Bekir Bozdağ vowed to continue aid efforts to Somalia. "Those who are disturbed by Turkey's humanitarian aid saga to Somalia seek to throw away Turks. They don't know us … We will continue to aid to prevent killings," Bozdağ wrote on his Twitter account.
A Turkish diplomatic source said Turkish guards were able to kill two attackers before a third detonated his vehicle. Foreign Minister Ahmet Davutoğlu called the Turkish envoy to Somalia Kani Torun immediately after the attack. Davutoğlu send condolences from his Twitter account to the family of the killed Turkish agent. He added that tight security measures prevented more casualties.
The head of the Organization of Islamic Cooperation (OIC) Ekmeleddin İhsanoğlu and Somali President Hassan Sheikh Mohamud also condemned the attack in a statement. "I wish to convey my deepest sympathies to all those injured or affected by the blast, and I offer my sincere condolences to the families of those who lost their lives," Mohamud said.
Turkey in 2011 launched a major diplomatic, economic and humanitarian push in war-torn Somalia, becoming one of the very few nations to set up an embassy in the capital.
It was opened following a visit in August of the same year by Prime Minister Recep Tayyip Erdoğan, the second major leader to visit post-civil war Mogadishu, a few months after Uganda's Yoweri Museveni. Turkey has also sought a greater diplomatic role in the region, including brokering dialogue this year between Somalia and Somaliland.
Attack carried out by 'supposed Muslims': Erdoğan

Al-Qaeda-linked al-Shabaab rebels claimed responsibility for the attack via Twitter, as they have for previous bombings, including one in mid-July that killed eight civilians.
"Mujahideen forces in Mogadishu have just carried out an operation targeting a group of Turkish diplomats in Hodan district," al-Shabaab said on its Twitter feed. The United States condemned the attack, saying that Turkey, a NATO ally, had played an important role in helping Somalia emerge from two decades of conflict.
Erdoğan slammed the Islamist rebels who were targeting Turkey while Ankara was increasing its assistance to Somalia, describing them as "supposed Muslims."
"They are doing this against our government. Why? Because we are helping our brothers in Mogadishu," Erdoğan said during a fast-breaking dinner on July 27, hours after the attack.
"This cowardly act will not shake our commitment to continue working for the brighter, more democratic and prosperous future the people of Somalia deserve," State Department spokeswoman Jen Psaki said in a statement. Al-Shabaab was forced out of bases in Mogadishu by Somali and African forces about two years ago, raising hopes of a return to relative security in a city hit by years of turmoil.
___
Hurriyet Daily News
Comments
comments