Somali lawmaker and famous artist slain in Mogadishu in broad daylight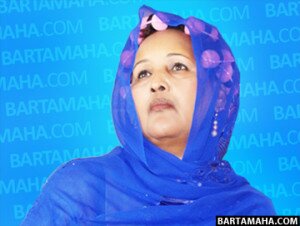 Mogadishu (BARTAMAHA) Somali Islamist militants has claimed Wednesday's killing of female Somali lawmaker and prominent Somali artist Sada Ali Warsame in Mogadishu most secured street Maka Al Mukarama in broad day light.
Al Shabab recruits with a small car have killed Warsame and her driver at Maka Al-mukarama, a road which Somali government officials use frequently because of its high security presence after blocking Warmsame's car and opened fierce fire on the lawmaker along with the driver.
Shouldering the killing of Warsame, Senior Al-Shabab officer stated that their fighters have carried out the murder female member of Somali parliament along her Somali-american driver. "Our special forces have carried out the killing of Sado Ali Warsame along with her Somali-american driver," said the terrorist officer.
Besides her outstanding achievements in her career. Sado Ali warsame had been Somali lawmaker since her appointment for the post in 2012, serving the country over 2 years.
Comments
comments